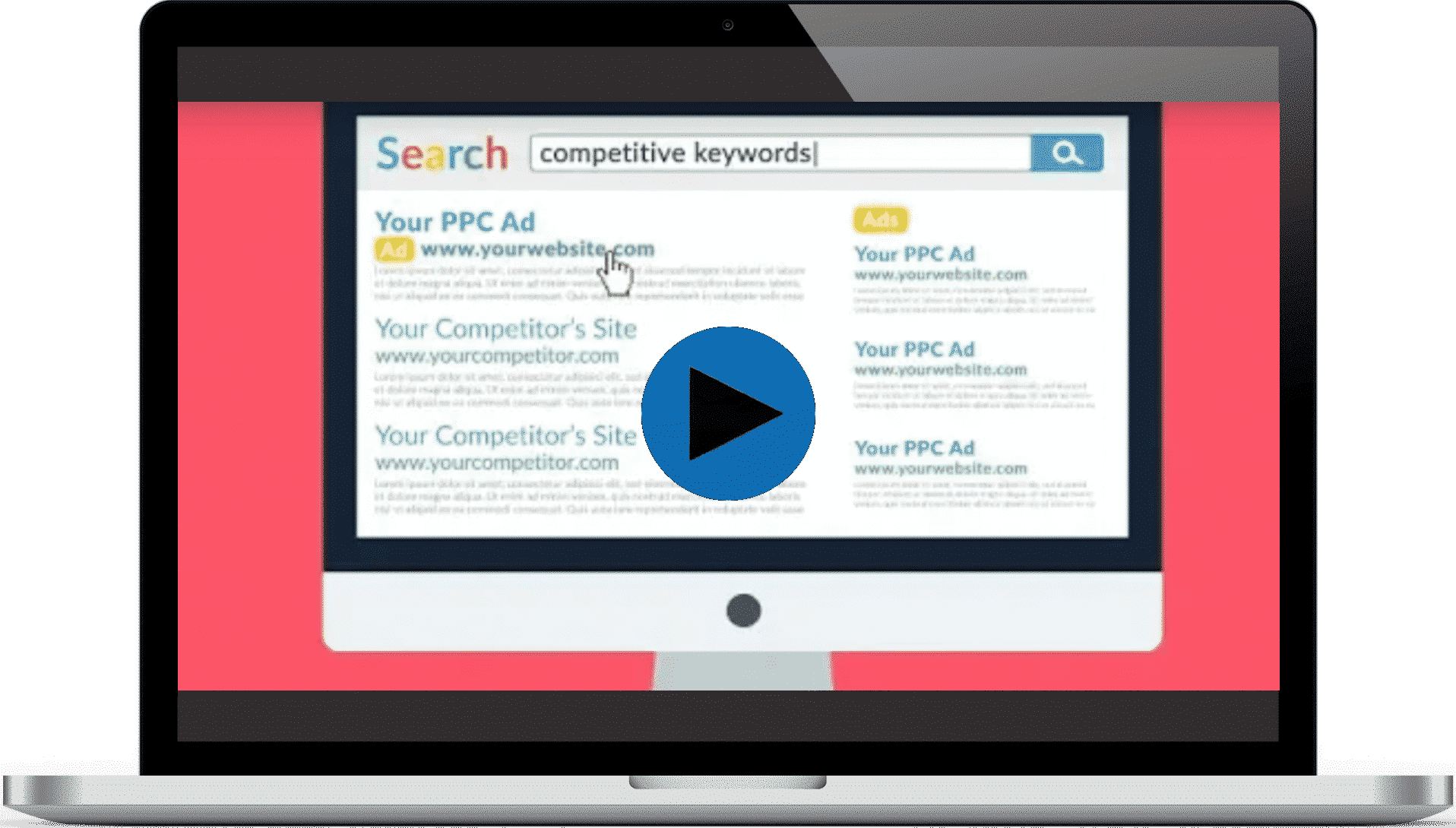 Get Your Business Out There With Google Ads
Media Booth™ helps your business to stand out by nailing down what makes your brand better than your competitors and spread your message across the platforms relevant to your industry.
We know that whether or not you are at the top depends entirely on who is handling your Google Ads. Let Media Booth™ do it right.

Keep Track of Visits


See how many people see your ads, what day, and when. You can even see who calls or visits your business. Google Ads keep track of all that important information.​
Set Your Budget


Set your budget and adjust it as you go along. Change your daily or weekly budget with the click of a button. Media Booth™ and Google Ads let you stay in control no matter what!​
Go Global


Is local just not enough? Thanks to Google Ads we can extend your customer base to outside Australia. Broadcast to entire regions or countries, the choice is yours.​
Google Ads - What's the story?
Google Ads is a paid advertising platform which is usually displayed above organic search results on Google search pages. The search results are split into into 3 sections; paid ads, maps and organic search results.
Once Media Booth™ has created an ad for you and together we have decided on targeting and bidding factors, we will launch your campaign. Google will then display your ads each day until your set budget is used. A small amount within your set spending level is used each time someone clicks on your ads.
Call us to find out how we can drive business to your website.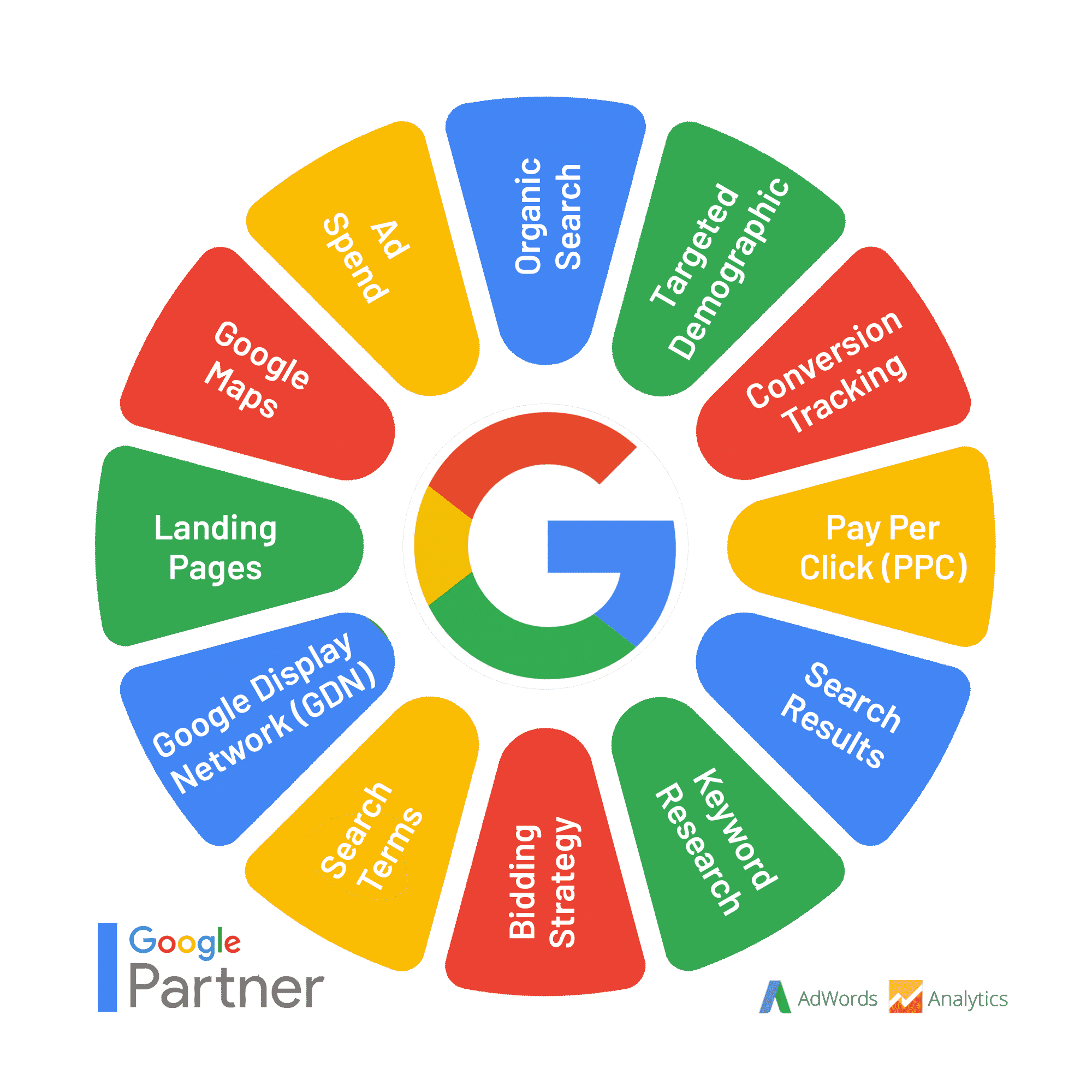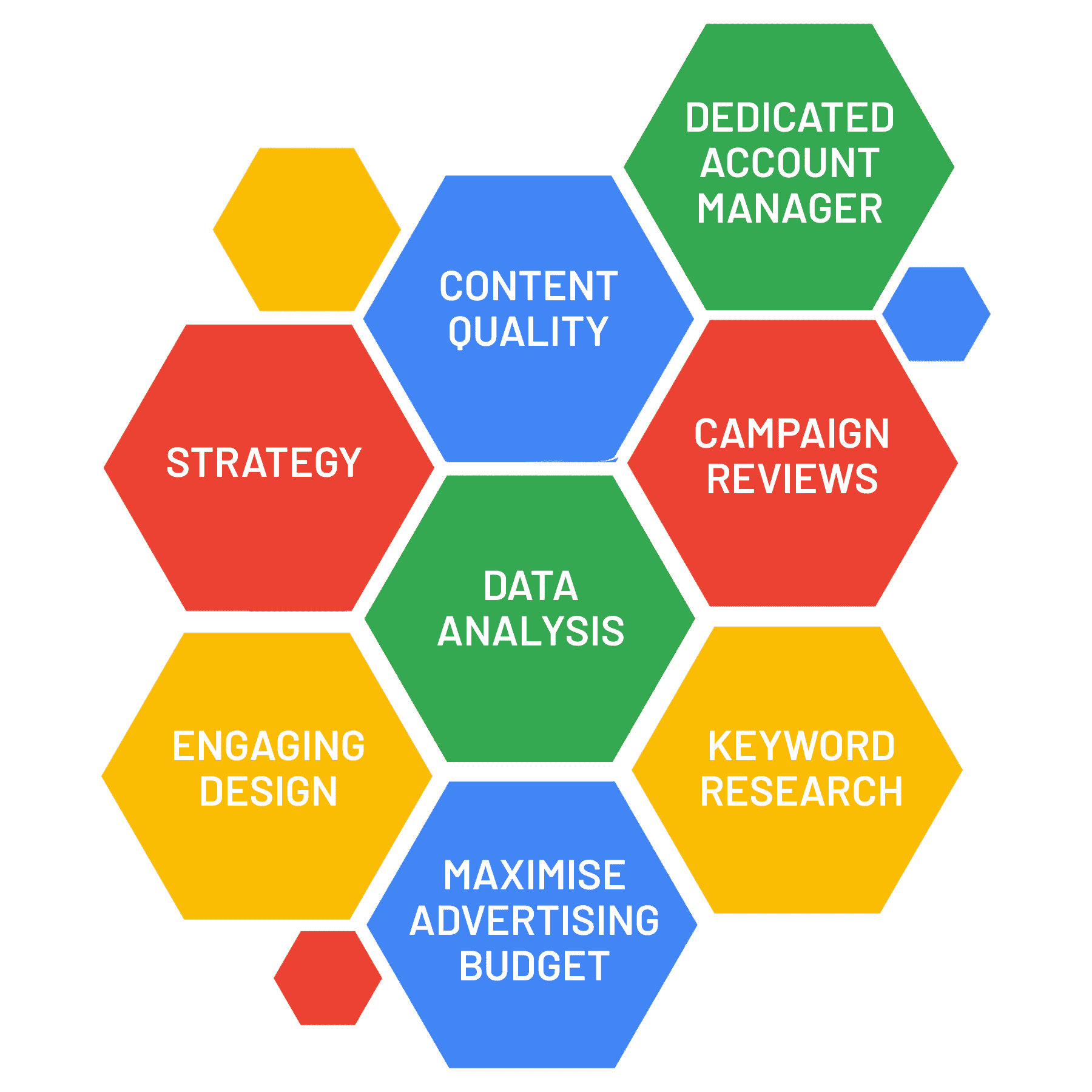 Why are we different to other agencies?
Some agencies 'advise' that all you need to do is bid the highest to get the best result. This is not the case. Media Booth™ understand that the use of expert strategy, quality and care are all key components to implementing an effective campaign.
We will create a comprehensive campaign for your business, that includes extensive keyword research and engaging design. We will try to maximise our client's investment, by regularly reviewing your campaign, based on reporting and data, to make any necessary changes to continue to squeeze your advertising budget to the last possible cent.
READY TO TAKE THE NEXT STEP WITH GOOGLE ADS?
Contact the experts at Media Booth™ - The Ultimate Digital Agency.
HOW DOES IT WORK?
Google Search Ads rely on bidding for 'keywords' or 'phrases', with the highest bidder securing the first rank on Google if the ad quality is high.
IT'S LIKE AN AUCTION
If there is demand for that particular "Keyword" i.e. several competitors all targeting that word then the bid will need to be higher in order to show above the competitors.
GREAT INVESTMENT
You can control your costs by setting a set budget, and even though it's a heavier investment than Facebook Ads, it can provide a great return on investment (ROI) for your business if done correctly.
Okay... what's a Google Search Ad?
It's so easy to get noticed when Media Booth™ is managing your Google search ads. We combine leading strategy implementation with high-quality landing pages designed for higher conversion.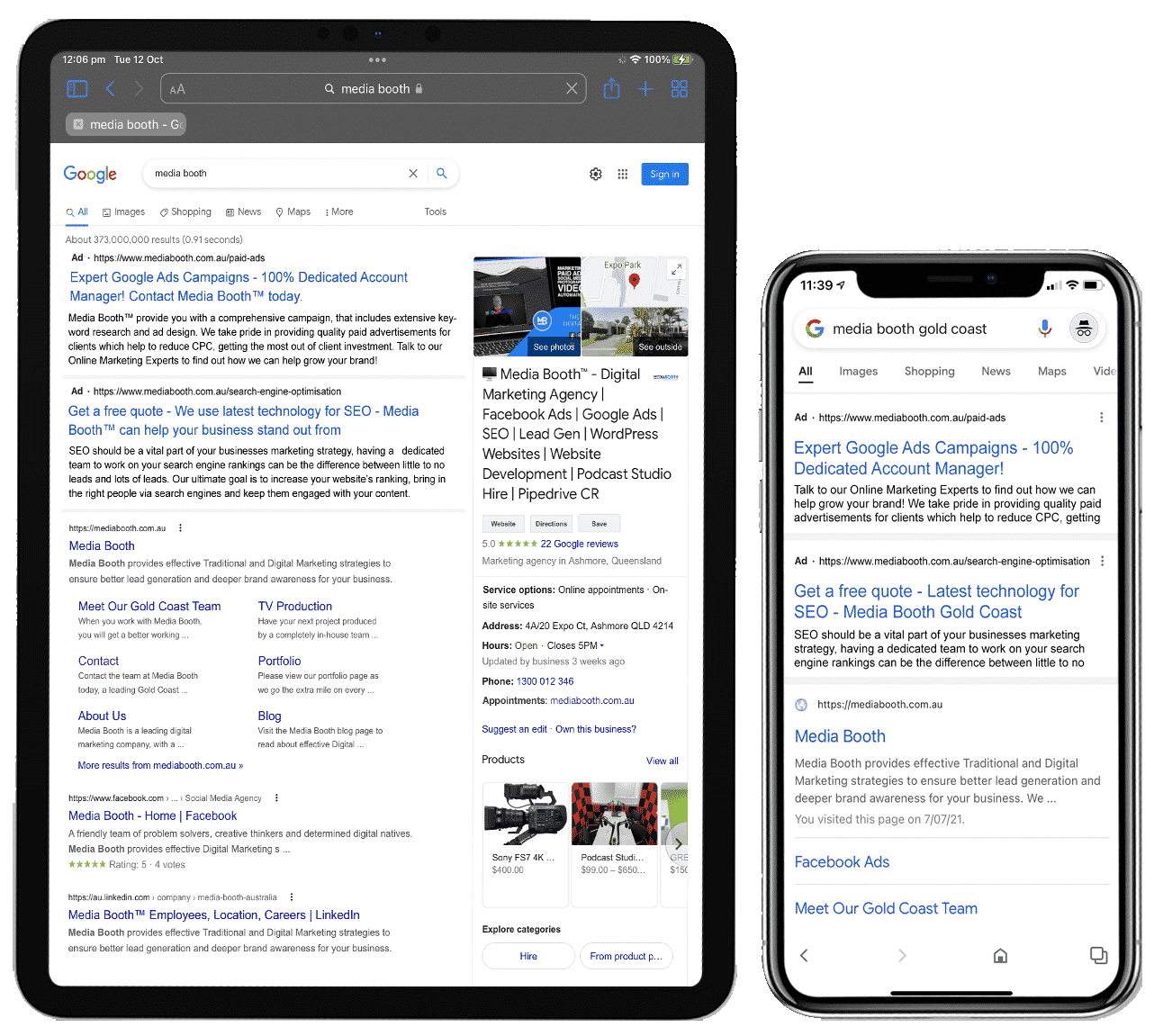 Example of Google Search Ads created by Media Booth™
TARGET YOUR ADS
Targeting gives you the ability to show your ads to reach people who are interested in your products and services, and show them relevant ads.
REACH CUSTOMERS
A potential customer types in a search query relevant to your business and you appear at the top of their search list. Match made in heaven, right?
MEASURE YOUR SUCCESS
If somebody clicks your ad and buys your product, downloads your app, or calls the phone number on the ad, you'll know. It will provide insight into which ads are successful, and which are not.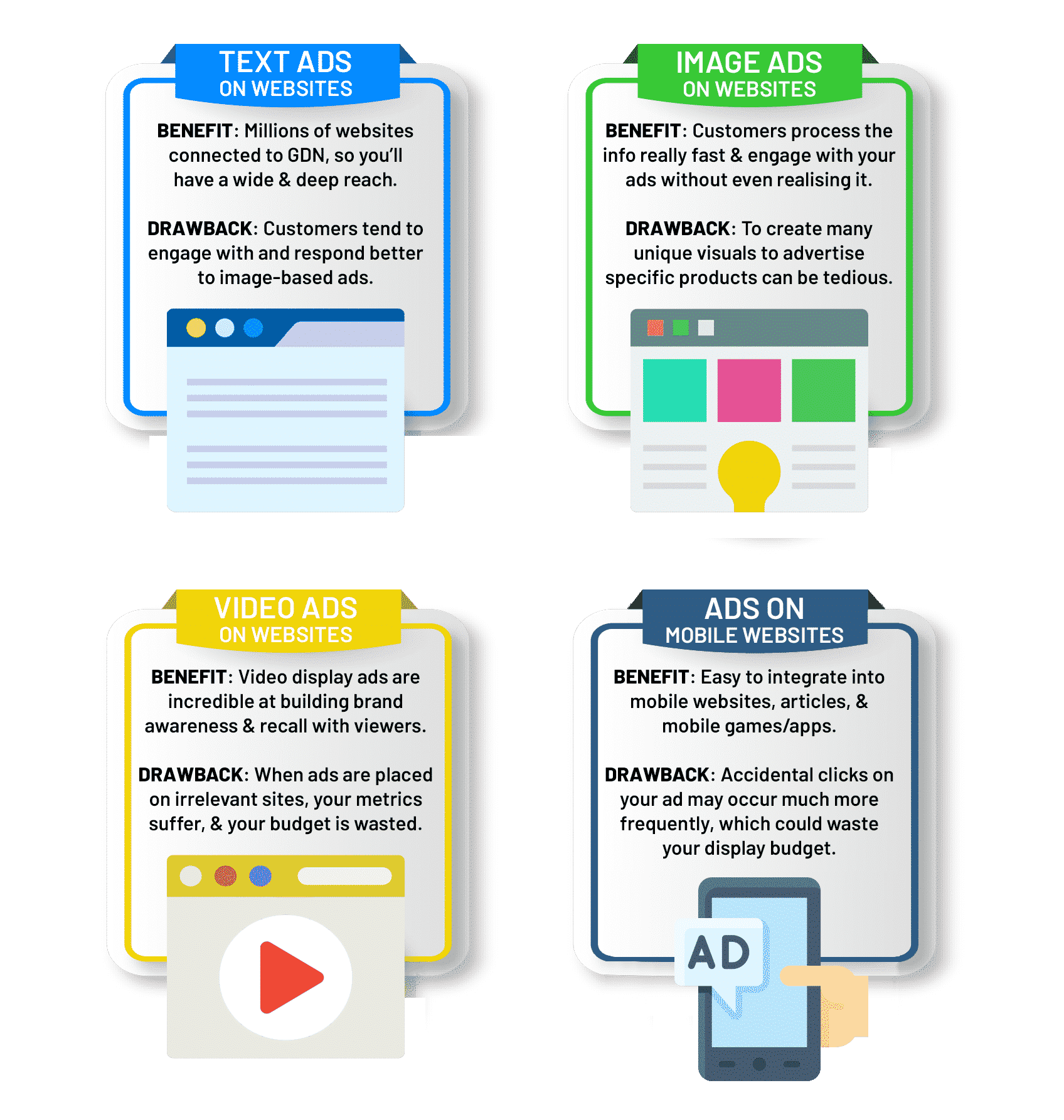 Have you heard about the Google Display Network?​
In addition to the Google Search Ads, we also offer packages for the Google Display Network (GDN). There are lierally millions of websites already linked to the GDN, granting permission to display ads on their websites., potentially with over 90% reach of all web users. We find it's generally cheaper to advertise here as the clicks are less costly than those on the main Google Search.
As a certified Google Ads Partner, we use our own in-house Graphic Design Team to create visually appealing ads and banners for your business, that are relevant and have a higher chance of converting a lead. Give our team at Media Booth™ a call today to find out more.
What is Conversion Tracking?
What's the single most important aspect of any lead generation campaign? Conversion tracking. Without it, you can't measure your successes. Are your leads coming naturally (or "organically") through Google? Or was your Paid Advertising responsible? Without conversion tracking enabled, you won't know.
P.S. - Even without paid advertising, conversion tracking should be the bedrock of your online presence & one of the very first systems you put in place. It is not optional.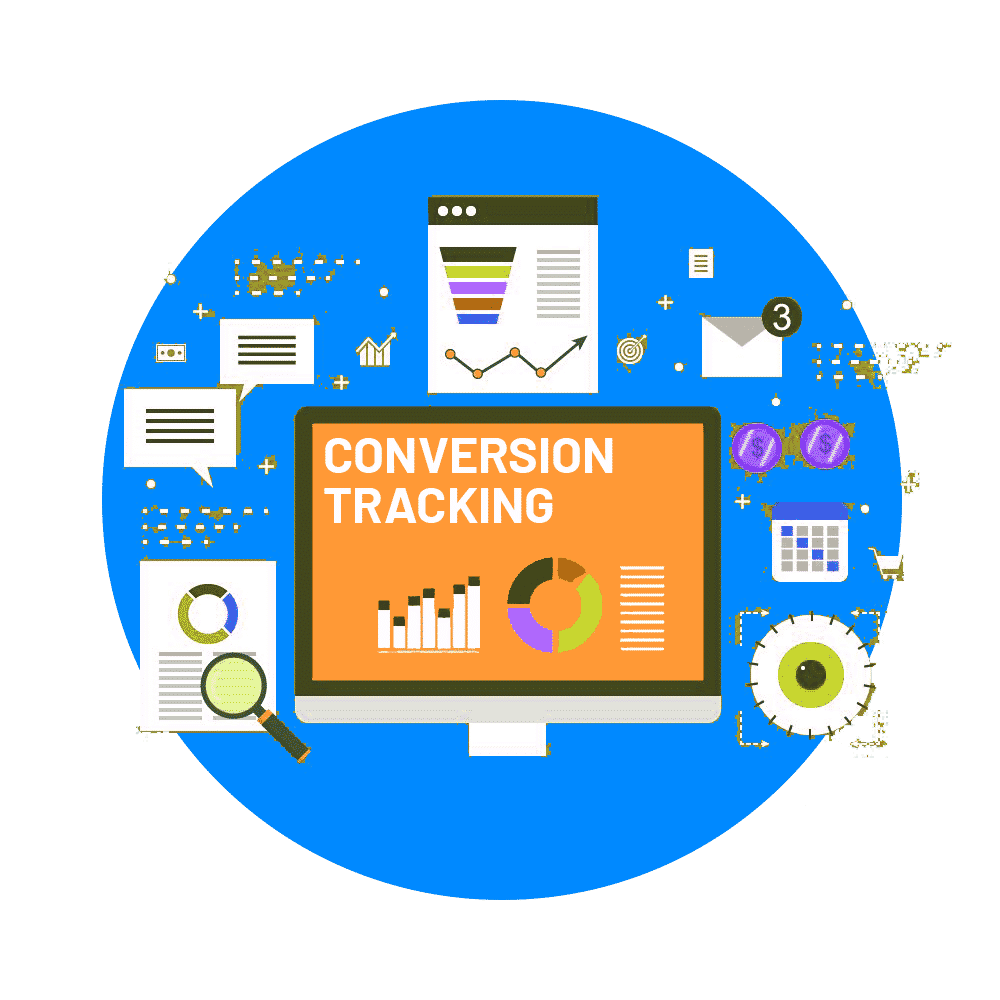 How does Conversion Tracking work?
First off, a "conversion" can be any action your users or clients have taken.
Common examples of conversion are:
When the phone number on your website is clicked.
When a contact form is submitted on your website.
When a brochure or file you have available on your website is downloaded.
When someone purchases a product on your website.
You want to track as many actions, that you deem valuable, as possible. By integrating platforms such as Google Analytics, you get an in-depth view into what actions are occurring for your business & data surrounding that action's origin and user (eg; City, Gender, Search Query, Age, How They Found You).
It's always much better to have conversion tracking setup before you need it. Maybe your business is just starting out and in a few months you'll want to invest in SEO or PPC. Without a benchmark to compare against, you won't have a significant understanding on the success of your investments. Plus, by having historical data available, you give platforms such as Facebook Ads a better chance of success as it will understand what actions you want users to take based on your previous data.
WE BELIEVE IN GOOGLE ADS!
Contact the experts at Media Booth™ - The Ultimate Digital Agency.