BoatSync - Boat Inventory Listing Software
BoatSync is a result of the latest technologies, coupled with intent, to save you precious time whilst assisting in branding, marketing and professionalism. The founders had the intention in mind of uncomplicated, real world use - and it really hits the mark.
Our primary focus was always the end-user, hence, reverse engineering this solution system for you. Unlike many software providers, we do not hide behind emails, online tickets and computer screens.
Fast Setup


Our team are dedicated to providing fast, effective service to our clients because of this, installation and setup will only take around 7 days. Ask for more information.
Wordpress Integration


If you have a WordPress website you are ready to go. If you do not have a WordPress website, please contact our team to discuss options and possible future platform integration.
Training


Media Booth® will provide training and support along the way in the form of video tutorials and a variety of online resources. If you have a query please give us a call.
Have you ever wished creating a new sales contract or a brochure for a new listing could be as simple as clicking your fingers? Your wish has been granted!
You can instantly show your new listings on your website and boat classifieds. Simply fill in the details of your latest listing in your BoatSync dashboard, add a few decent photos and you are now ready to experience the power and ease of OneClick.

ONECLICK CONTRACT
Allows you to generate a customised new listing or sales contract in just a few seconds and fully populated with details and relevant information.

ONECLICK CONSIGNMENT
Generate a legal consignment document, ready for signing by your client instantly.

ONECLICK BROCHURES
Brochures on demand. Your new listing goes live and within seconds you can print a customised, professional brochure for trade shows and for interested prospects.

ONECLICK PHOTO CARDS​
Keep your window display looking fresh and updated with quality photo cards for passers-by and foot traffic.

EASY TO USE
Have you ever wished creating a new sales contract or a brochure for a new listing could be as simple as clicking your fingers? Now you can.

SOCIAL PLATFORMS
Our tech team will commence with website and social media (Facebook, Instagram and Google My Business) integration.
BOATSYNC IS FAST, EASY AND SEAMLESS
Contact the BoatSync experts at Media Booth® - The Ultimate Digital Agency.
Many business owners have been scarred by various software tools that were supposed to make life easier and instead, caused more confusion and headaches than anything else.
We have a physical office located in Australia's boating capital, the beautiful Gold Coast. If you would like to talk to a human about a problem, need some assistance or would like to make a suggestion, you can call us directly and speak with the development team that built the software.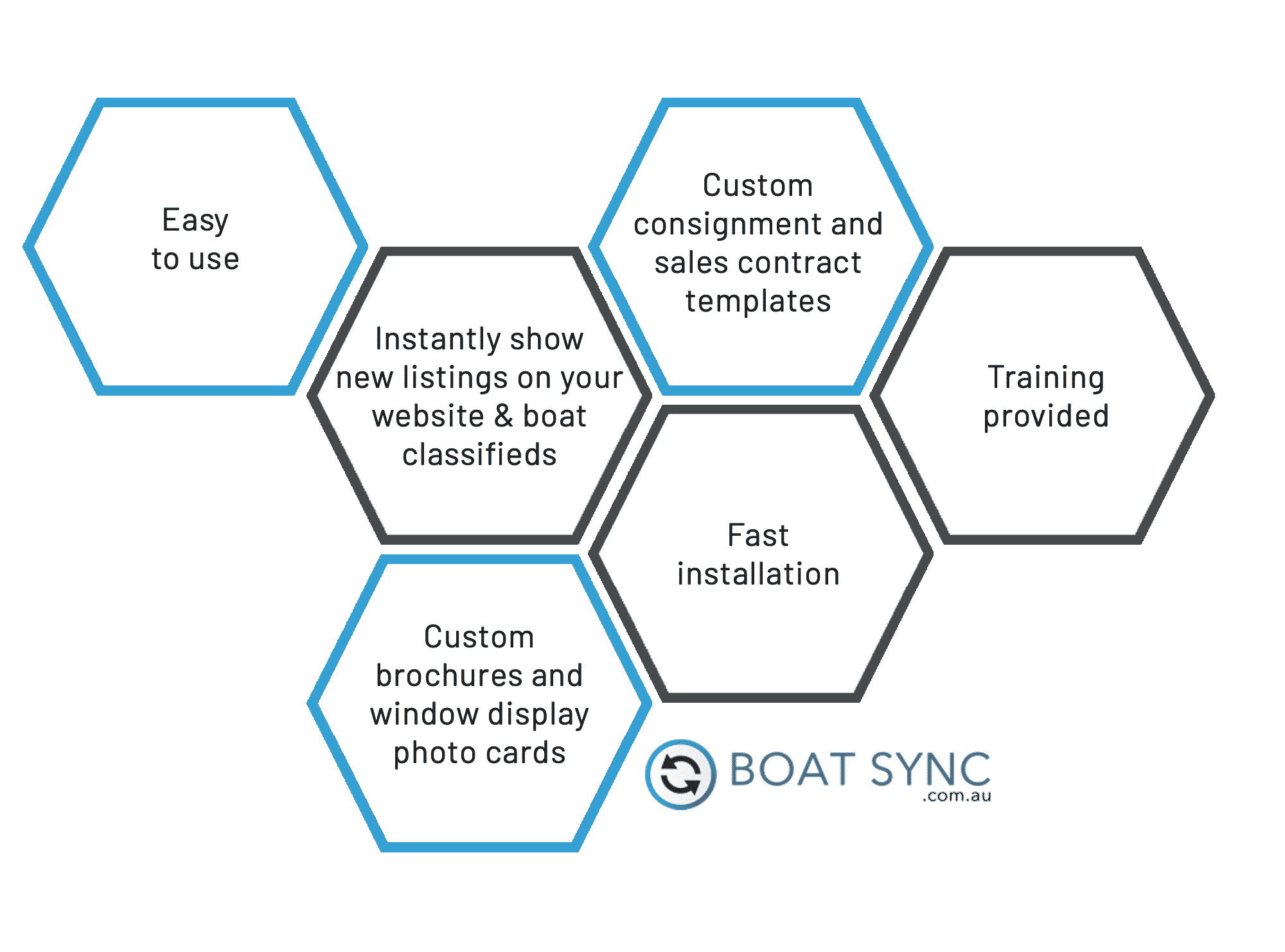 Advanced Features of BoatSync
Integration
Our proprietary software platform is also a marketing integration tool showcasing your new listing across all the major social media platforms and Google My Business.

It also integrates with all the top CRM platforms.
Rankings
Not only will BoatSync advertise your stock to potential buyers across your marketing platforms but we will also help build you as an authority to search engine (SEO) increasing the opportunity for more website traffic and better rankings.

Listings
Any listings posted on listing platforms, such as Boat Sales are optimised for performance. This means your listing can rank higher than your direct competitors.
BoatSync is also backwards compatible with YachtHub.

OneClick
OneClick is an integral part of the BoatSync software, as it powers the core features within the program.
It ensures that everything is uniformly and professionalism created for you.
Learn more about BoatSync!
ALL BOAT COMPANIES NEED BOATSYNC!
Contact the experts at Media Booth® - The Ultimate Digital Agency.