This page was loaded in 0.185 seconds!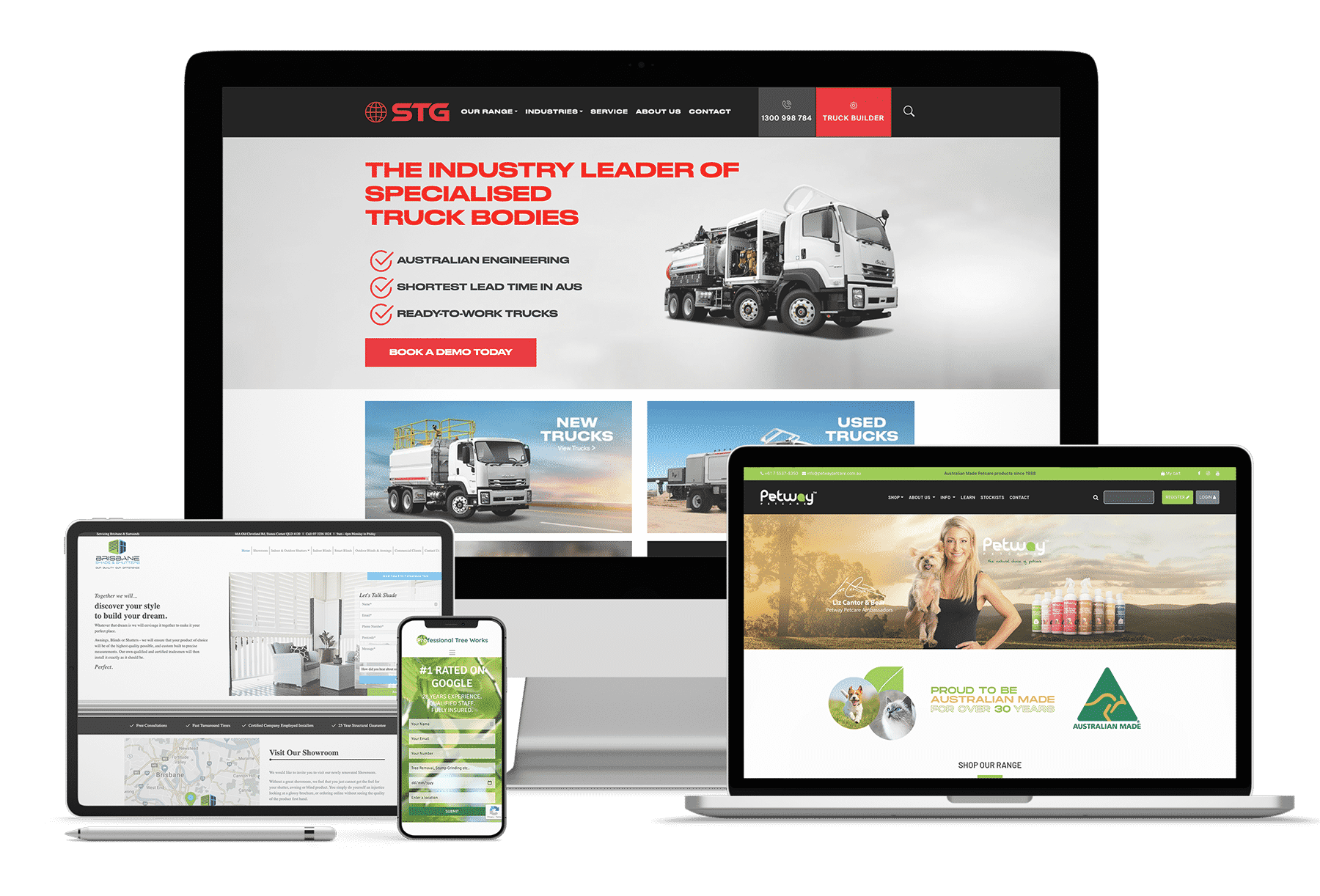 Examples of Ultra-Fast Websites made by Media Booth®
Ultra-Fast WordPress Websites
Speed Up Your Site


Not all hosting is equal, that's why combining a fast WordPress Website with Fast servers and caching is a MUST. Australian based servers for hosting Australian websites, don't buy cheap offshore hosting, your website performance will decrease because of it. Think of it like this, an Australian website visitors connection has to travel to say the USA then back, then download the files, this adds load time and latency to your Australian visitors experience.

Created In-House


When you work with us, you'll deal with our in-house developers. Highly skilled at website development and many other development languages ensures you're getting the best experience! From custom software to mobile apps our team can deliver any project for your business. We keep up with the latest coding practises and developments so our team stay at the forefront of our industry and ensure we deliver the most optimal results.

Lightweight Pages


Our Ultra Fast websites are amazing! The system that we use outputs super quick web pages and is engineered for performance. The Ultra Fast websites are extremely SEO-friendly, and the designs can be tailored just for you and the needs of your business. Unlike a standard website, you are not tied down to a stock theme for the design - these can be fully customised! Effectively deliver your message to your audience through any kind of device, at super speed!
Google's Core Web Vitals Update
With the announcement of the Google Core Web Vitals update, it is clear that user experience is going to be a factor in rankings from mid-2021 onwards.
The Google Core Web Vitals update measure aspects of web usability such as load time, interactivity, and the visual stability of content on the web pages as they load.
While it's unknown if lower-rated websites will lose rankings due to this, we expect it will be and therefore always build our websites to truly exceed the benchmark.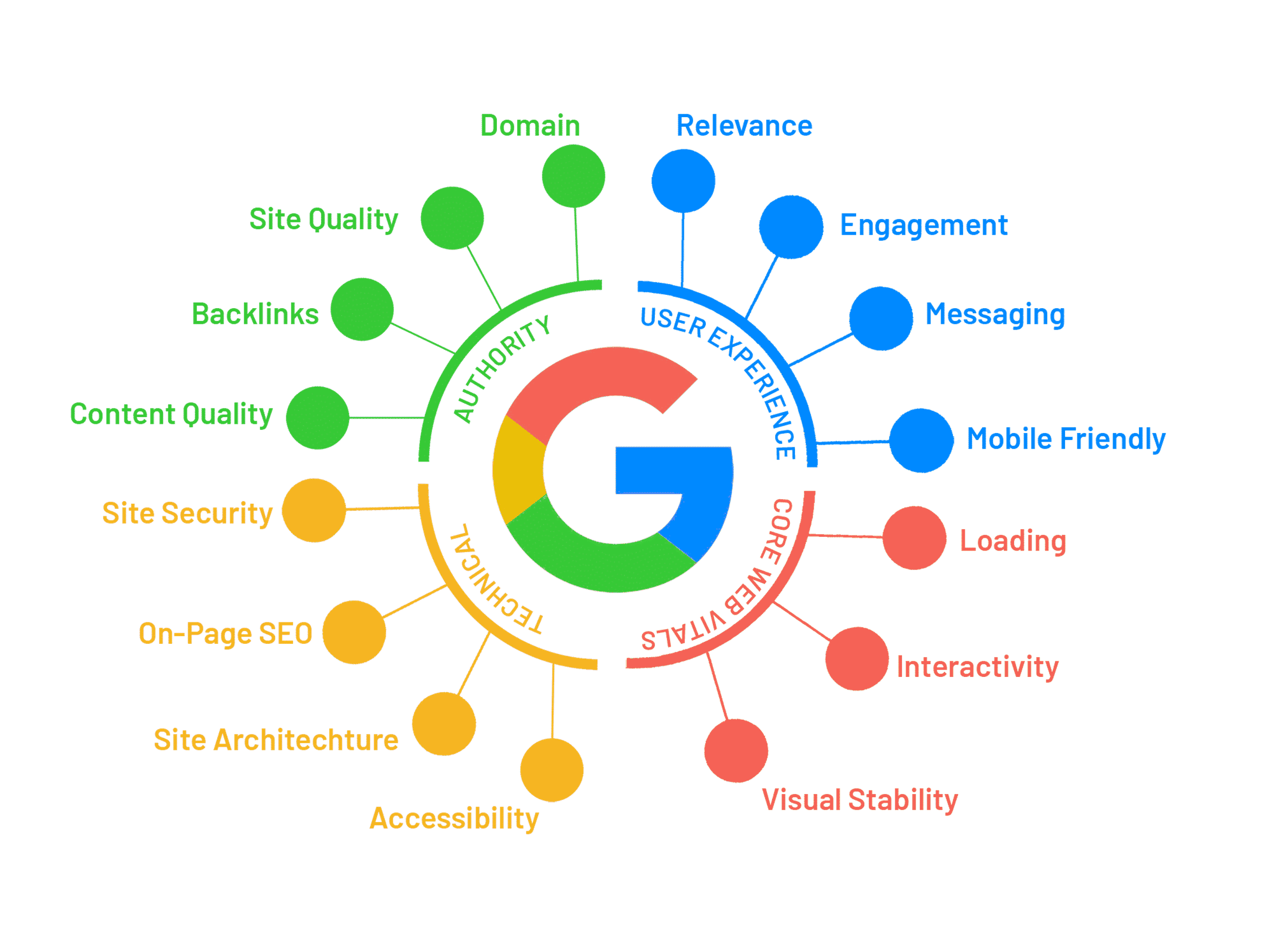 ARE YOU READY TO BUILD A GREAT WEBSITE?
Contact the experts at Media Booth® - The Ultimate Digital Agency.
Case Study:
Petway Petcare - Queensland
Petway Petcare has been a long standing client of Media Booth® for years, and it was time to take their website to a new level. With complicated pricing structures for multi-tier users and additional functionality to allow one tier to checkout with just a purchase order and no freight costs, our team got to work. We developed concepts of the new website in a layered Photoshop (PSD) file, and took time to listen to our client's needs and design the perfect new website. This design was optimised extensively to ensure the best user experience.
Our team moved onto coding the site, using the latest bootstrap framework and optimising the build in WordPress. We then imported all the products, whilst making many changes to categorisation and layout. Finally, we imported over 5 years of orders and user data into the new website, so that existing customers could login and order without having to re-register. It was important to minimise any negative customer experience during the transition from old to new website.
Our goal with Petway Petcare was to ensure rapid speed and a seamless user experience on our all-new Ultra-Fast WordPress Website, here are the loading stats.
Load time (Sydney based test): 1100ms (milliseconds)
Largest Contentful Paint (LCP): 812ms (milliseconds)
Cumulative Layout Shift (CLS): 0ms (milliseconds)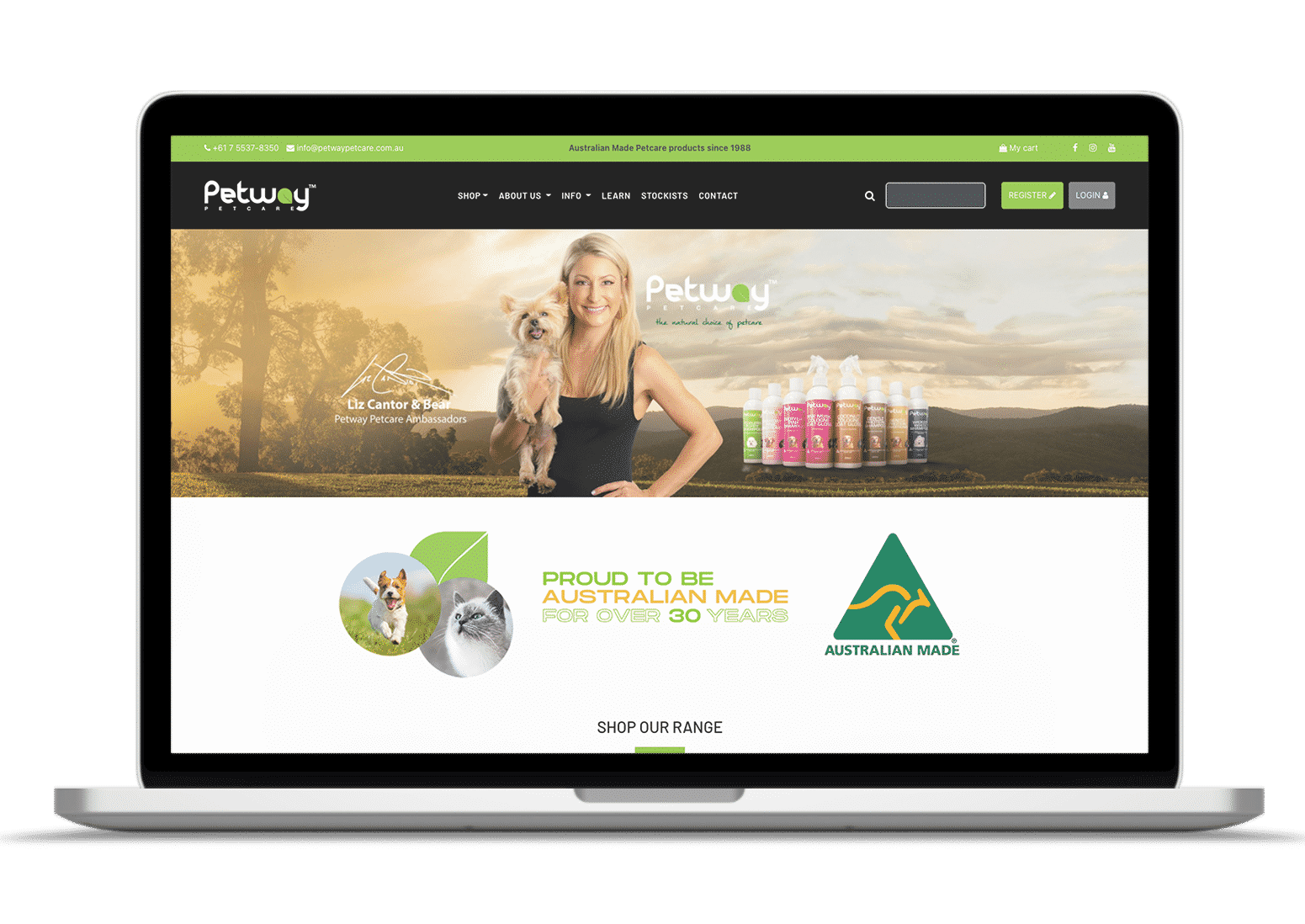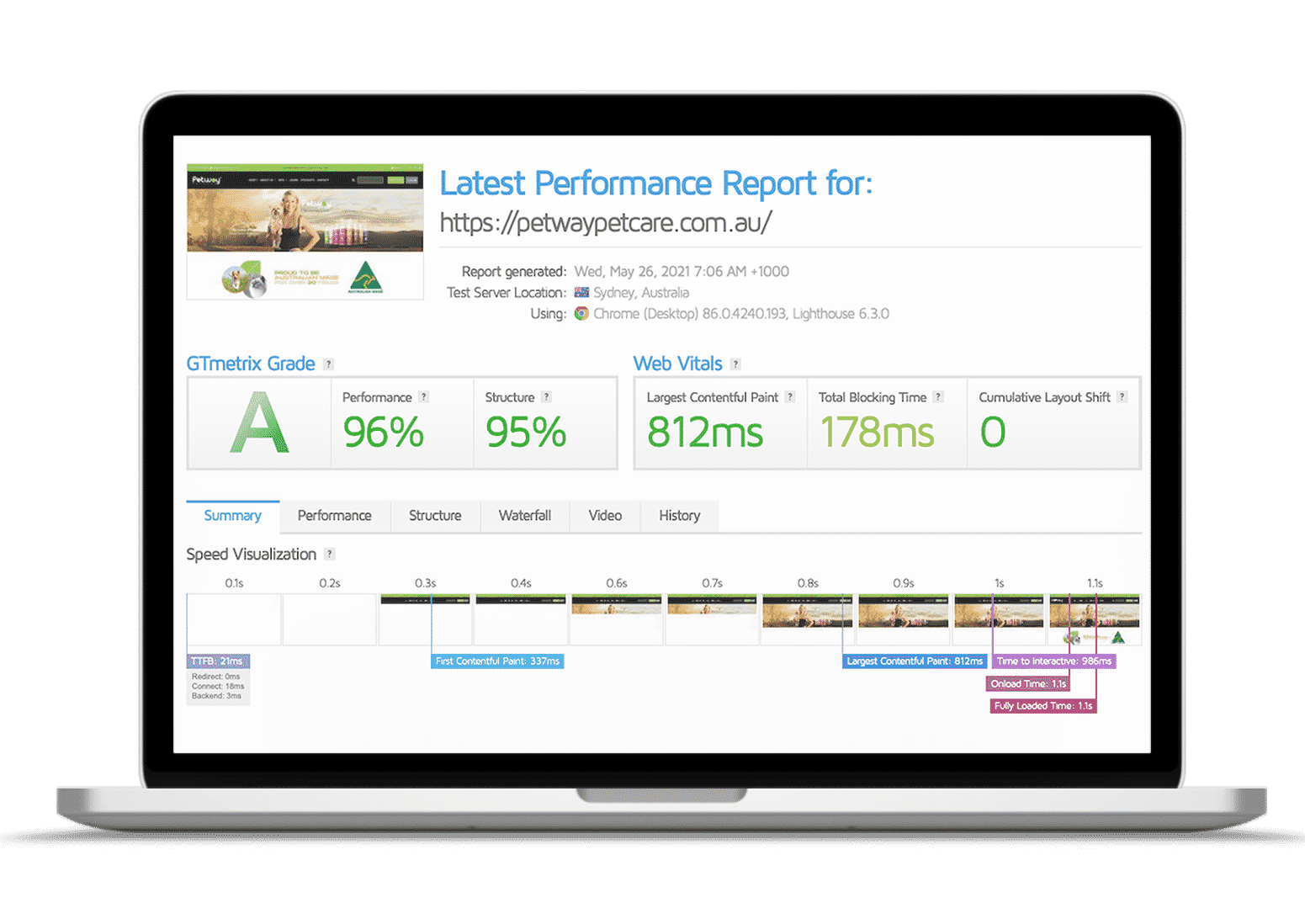 I WANT AN AMAZINGLY FAST WEBSITE, JUST LIKE PETWAY PETCARE!
Contact the experts at Media Booth® - The Ultimate Digital Agency.
What are the most important things in a super fast website?


PAGE SPEED
If a website takes more than a few seconds to load, its bounce rate will escalate. Once the search engines realise users don't find the page content useful, its rankings will slip. Making the user experience a good one is imperative.


ANALYTICS
It is so important to understand how important website analytics are. They can tell you where your visitors are coming from, what they're looking at, and how long they stay. Using the data is a smart move when it comes to your online marketing strategy.


PROFESSIONAL CONTENT
Without content, your website is nothing more than an ad, which is not an effective online marketing strategy. Your goal as a business should be to empower your visitors, not just sell them something; that will come over time.


IMAGE OPTIMISATION
Large, unoptimized images can make your website sluggish and slow. Users expect your site to load quickly, so making sure your images are as small as possible without losing quality helps to ensure a better overall user experience.

WRITE A BLOG
Blogs are a tried-and-true method to get your keywords in that are related to your business. It can answer potential customer enquiries, discuss new and upcoming products, and set up your business as a preferred solution.


CALL TO ACTION
One of the crucial components of a web page is its call-to-action (CTA), and many website owners don't realize that every single page of a website should contain at least one CTA. This can include a video, a form, or a free trial, etc

YOU NEED AN ULTRA-FAST WEBSITE!
Contact the experts at Media Booth® - The Ultimate Digital Agency.