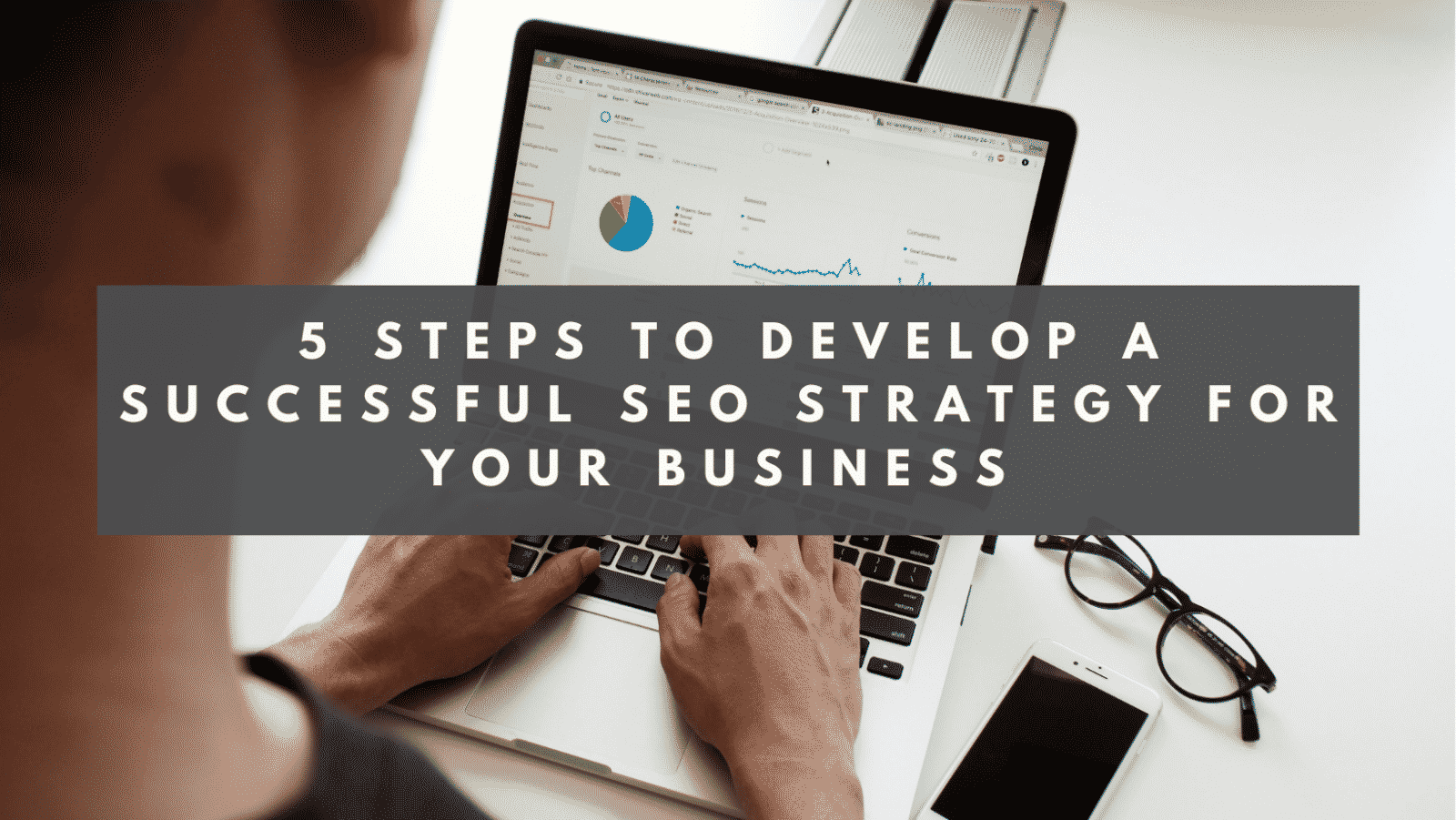 5 STEPS TO DEVELOP A SUCCESSFUL SEO STRATEGY FOR YOUR BUSINESS
It's no secret that digital marketing has become a necessity for businesses of all sizes. However, because of the nature of the industry, some professionals feel like smaller, local businesses are at a disadvantage. This is in fact incorrect. SEO is one of the most important digital marketing strategies and if integrated into a business correctly, there are numerous opportunities for localised, smaller businesses to rank higher in search results.
What is SEO?
SEO is a term used a lot, particularly in digital marketing, but many people don't actually understand what it means. SEO is an abbreviation for Search Engine Optimisation which essentially makes it easy for search engines, such as Google or Bing, to find websites. SEO utilises special techniques that allow various search engines to locate the information that is published on your website, commonly known as content, and then rank it against similar websites. This rank then determines how close you are to the top of a search when a potential customer searches for something that a business offers. An SEO strategy is imperative for all businesses, no matter how big or small, but before a successful SEO strategy can be developed it is important to understand how SEO actually works and how to use it effectively.
How Does SEO Work?
So, how does SEO actually help improve a business? To break it down, when a potential customer is looking for a product or service, they generally search a few words to help find businesses that offer this product or service. When searching, search engines then scour the web for websites that feature these particular words and then decide which websites will be most relevant to solve the consumers problem, therefore pushing a particular website to the top of a search. By creating content for a website that has greater relevancy to consumers in comparison to other websites, there is a higher chance of appearing at the top of the search organically. This may sound confusing but don't worry, we are going to walk you through 5 steps to help develop a successful SEO strategy for your business.
Step 1:
The first step involves forgetting about SEO for the meantime and learning to understand the type of customer who shops for a particular product or service online. Improving SEO begins with understanding customers normal behaviour and how this behaviour changes throughout the purchasing cycle. To make it easy we've broken down what the typical consumer buying journey generally looks like:
Awareness:
The awareness stage is the first stage where a customer realises that they have a problem and needs to find a solution to that problem. This leads to them beginning to search for that solution using very broad terms. For example, a business owner may realise that their website isn't showing up on the first page of search results, leaving them to search terms like 'SEO Gold Coast' or 'SEO Gold Coast Help'.
Consideration:
The consideration stage is then reached where customer understand their problem and are now looking for specific solutions that suit their needs, using the same example their searches may begin to look like 'SEO Gold Coast Rankings' or 'SEO Gold Coast Improvement'.
Purchase:
Finally, we have the purchase stage where the customer is ready complete a purchase and often knows who they will be purchasing from which results in a direct service provider being searched for, an example would be 'SEO Gold Coast Media Booth' or simply 'Media Booth'.
Step 2:
Now that the customer is understood, this is where keywords come into SEO. Keywords are the few words that customers put into a search engine when looking for a solution such as 'SEO Gold Coast or 'Where is there Search Engine Optimisation services around the Gold Coast'. It's important when writing content for a website that the keywords customers use are filtered throughout content on the website as well as in new content such as blog articles. These keywords can be added into website pages as the heading of the page, in the content or can even be used to title images used on the page. Although keywords do help SEO, it's imperative that the words are relevant to the business, products or services offered or the location, generally anything that the customer would be considered a key phrase. It's also important that keywords are not overused throughout the content and that the piece still reads well otherwise this can negatively impact rankings.
Step 3:
Now that we know which type of content we need, it's now time to stay on top of that content. Content needs to be refreshed frequently, weekly if possible or if not monthly, so that search engines have the most up-to-date, relevant information when comparing your website to others. An easy way to do this is adding new information about a product or service, sharing a customer's story or adding a product video. Staying on top of web content every six months and removing any irrelevant content also helps SEO by encouraging search engines to visit the website more often which helps the search engine notice new content faster which can also have ranking benefits.
Step 4:
Building on the previous step, it's now time to try and gain links from other websites. When writing web content, web pages are able to be linked to other websites that also offer relevant information on the topic being discussed. The reason for this is that it helps SEO because search engines are able to see which pages have linked certain websites and vice versa. When a website is linked by another this is considered to be like a vote of confidence that the website is accurate, relevant and useful and therefore will be pushed to consumers more. However, not all links are considered to be equal, links from highly reputable websites hold more weight than just an average website.
Step 5:
The final step to improve SEO is to include a meta description tag for all of your website pages and content that is uploaded. The meta description sits below the link on the rankings page and is a short description of what information you can find on the website. In some cases, the meta description may not even be displayed but it still helps relay the information to the search engine as to what a page is about and therefore helps the ranking process as it helps decide if the page is relevant or not. Alongside the meta description, it's also important to include key words, if possible, in the URL of the relevant page.
There you have it, 5 steps to help improve SEO for your business. Don't worry if you don't fully understand the concept still, it can be hard to grasp at first. At Media Booth we are able to offer a FREE SEO consultation where you can sit down with one of our experts to discuss all things SEO. From here they will be able to answer any questions you have alongside explain how SEO could specifically help your business, all you need to do is enter your details here.
5 Steps To Develop A Successful Seo Strategy For Your Business
June 14 , 2021
Read More About SEO :
Media Booth Socials