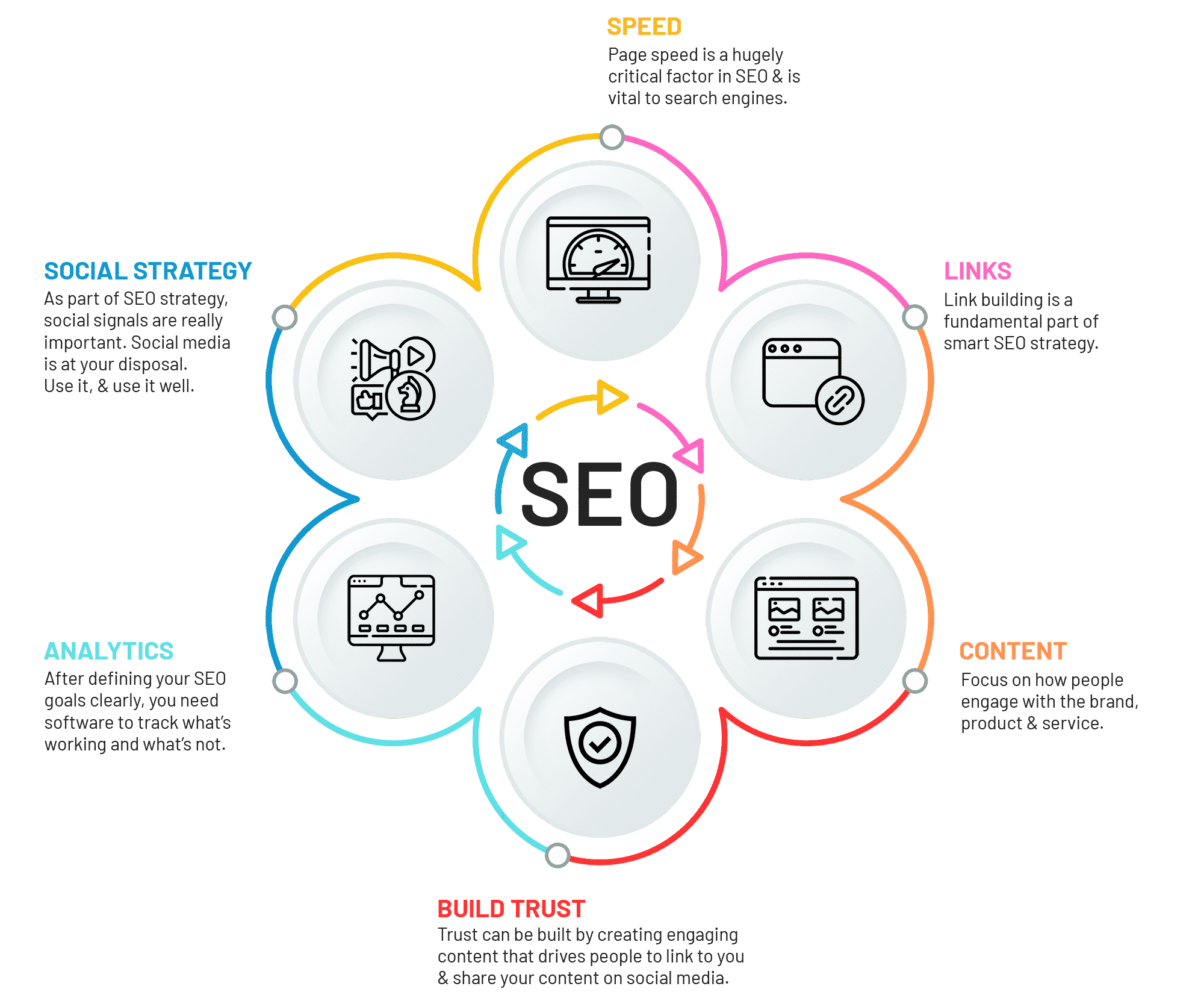 The web has changed so many aspects of our lives over the past 30 years, but few fields have seen more changes than marketing.
There is still a benefit to classic advertising strategies like billboards and print ads. However, it is no surprise that so much marketing happens online today.

Among digital marketing strategies, search engine optimisation may be the most essential one. Did you know Google pulls in 63,000 searches every second?
If your website isn't taking advantage of those opportunities, our Brisbane SEO Agency is here to help.
Our SEO Brisbane
Agency


SEO is the process of optimising the visibility of a website on search engines, from an organic or unpaid point of view. Using the latest technology and our own in-house Brisbane SEO agency created checklist will boost your SEO rankings to new levels.
Increased Rankings Means Increased Revenue


Getting your business to number 1 is the primary goal and by doing so our tailored set plans will not only boost your rankings but will increase leads and result in more revenue.
Get your business in front of customers like never before.
24/7 Dashboard
Reporting


Our technology platforms gives you the full visual on your seo rankings, but not only this it conducts regular audits of your website for any issues big or small, it monitors rankings, backlinks, Trust Flow, Citation flow and more and can also keep one eye open on your top 10 competitors.
Brisbane SEO Agency: Marketing Strategies That Search Engines Love to Rank
INCREASE REVENUE AND BRANDING BY GETTING IN FRONT OF MORE PEOPLE!
SEO Strategies We Use for You in Brisbane

Effective SEO isn't a singular technique or strategy. It's a collection of many measures we take to help you site appeal to search engines and users. While each site has its own needs, there are certain steps we take that allow us to deliver strong results every time.
1. Keyword Research
Keyword research is the cornerstone of any SEO strategy. It involves identifying the keywords that you want your website to rank for. In other words, you want your site to appear when users search for these specific terms. There are a variety of ways we do this. We look for keywords that are relevant to your business and have high search volumes and low competition ratings. Our team also identifies target keywords by comparing your site's performance to your competitors' sites. We find keywords that may be working well for your competitors but for which your site isn't ranking well. We also find keywords that both you and your competitors are missing out on so you can get ahead of the game. This keyword research helps us perform all our other SEO strategies more effectively.
2. Keyword Usage
With a list of keywords to focus on, our team gets to work incorporating those keywords into your site's content. This allows search engines to see that your site covers that keyword's topic. There is a delicate balance to strike. If your keywords appear too rarely, you won't rank well for those keywords. If they appear too often, though, the search engine could think you're using deceptive practices to rank for popular keywords. There's also a strategy involved in how we use the keywords in your content. Using them in certain places within each page will carry more weight. Our team works in the keywords in a way that sounds natural while giving you the best possible optimisation.
3. Meta Tag Development
When Google wants to know what a web page is about, it doesn't just look at the content on the page. It looks at the meta tags written into the back end of the page, too. Our team uses these tags to make sure your site's content and reliability are clear. We create meta tags for each page and incorporate target keywords into each one.
4. Location Specification
It may be exciting to see your site traffic skyrocket. At the end of the day, though, if those users don't become customers, you don't make money. Part of SEO involves attracting the right people. If your business is based in Brisbane, you want to attract users from Brisbane to your site because they're more likely to make a purchase. Our Brisbane Search Engine Optimisation team helps with this by incorporating your location into your website. This makes it more likely that you'll appear in locals' search results. It also makes you look more credible to the search engine because it sees that you have a concrete location.
5. Backlink Building
Backlink building is among the most important Brisbane Search Engine Optimisation strategies but it's also the most challenging one. A backlink is a link to your site from another, unrelated website. For example, if a blogger mentions and links to your site in one of their blogs, that's a backlink. This is difficult because you're at the mercy of other content creators' decisions. It's also challenging because not all backlinks are treated equally. The more popular and credible a site is, the more weight it will carry if you have a backlink from that site. Our team has mastered the art of building backlinks. We use our network of connections and our finely-tuned techniques to win backlinks you'd be unlikely to get on your own.
6. Internal Linking
Backlinks aren't the only type of link that is critical for your SEO. Having a strong network of internal links throughout your will help too. Internal links are links from one page on your site to another page on your site. Linking can you take some of the credibility from your high-traffic pages and share it with your lower-traffic pages. Having enticing links can also lead users to spend more time exploring the different pages on your site. You get more traffic from each person, which increases your site's popularity and makes it more appealing to search engines.
7. Sitemap Development
An XML sitemap is a structured map that links to each page of your site in a condensed way. Think of it as a text-based form of your menu. These sitemaps make it easier for Google and other search engines to crawl your site and identify relevant pages for each search. Of course, creating an effective sitemap requires some technical know-how and a collection of strategies and best practices. Our team has the expertise to develop and implement a sitemap that boosts your SEO.
8. Technical Improvement
When people think of SEO, they usually think about their keywords and on-page content. Did you know the technical performance of your site plays a role as well? Loading time is one factor. In fact, 53% of users will leave a site if it doesn't load within three seconds. Those users are likely to remember this frustration as well and will avoid clicking on your site in the future. This increases your bounce rate and decreases your total traffic. Both of these statistics can have a negative impact on your SEO. Your site's user experience will make a difference in the same way. If your site is awkward to use and users have a hard time finding what they want, your analytics will suffer. Fortunately, our team has the technical expertise to optimise your site's performance so it helps your SEO instead of hurting it.
9. Content Creation
Content may not be everything when it comes to SEO, but it plays a major role. Search engines look at the quality, subject matter, and frequency of your content. Our skilled Brisbane Search Engine Optimisation team can develop blogs and other content for your site to continuously improve your SEO. Not only does each addition give you a new opportunity to appear in search results, but it makes your site look more updated. Google wants to display sites that are up-to-date and relevant.
10. URL Enhancement
URLs are some of the unsung heroes of SEO. Your page's URLs will make a powerful difference in how well they rank in search results. The URL is one more piece of information Google uses to determine what each page of your site is about. If your URLs look like "/blog/1234567," search engines are less sure about what those pages cover. Our Brisbane Search Engine Optimisation specialists can restructure your site's URLs to be clear and concise in a way that appeals to search engines.
11. Image Optimisation
Placing images within your content will make your content look more attractive. Users are likely to stick around longer, which improves your analytics in a way Google will love. Images also make your content more shareable on social media. If you aren't optimising your images properly, though, you're only going halfway. Our Brisbane Search Engine Optimisation team uses techniques like captions and alt text to help Google identify the images on your page. We also optimise your images in a technical sense. We implement them in your site in a way that won't slow your site's loading time.
Our SEO Brisbane experts can take your business to new rankings by completing our in-house checklist of requirements that has been refined with over a decade of experience including optimising things like your Google My Business page, website, content, backlinks, meta data, alt image tags, speed, caching and so much more.
Why Media Booth Should Be Your Brisbane SEO Agency
The strategies above may look extensive and time-consuming, but that is merely a taste of what truly effective SEO involves. It's no wonder why so many companies choose to hire specialised SEO experts. If you want someone who can give you the best possible results, there are many reasons why Media Booth is the best team for the job.
1. Comprehensive Solutions
Media Booth is a comprehensive marketing agency with numerous departments. Our Brisbane Search Engine Optimisation department is one of many. How does this help you? It allows us to seamlessly integrate your search engine optimisation with your marketing campaigns and strategies. For example, perhaps you're launching a large campaign to target a specific market segment. We can adjust the keywords throughout your site and your content strategy to align with that group. This way, when you reach people with your campaign and they take to Google to learn more, you'll be front and center.
2. Easy Tracking
One frustration many companies have with their SEO agencies is that they never know if they're getting real results. They might see an uptick in their revenue but they have no way of knowing whether it comes from improved SEO or from other factors. Our SEO Agency in Brisbane has a live customer dashboard you can access at any time. This lets you see your search rankings and watch them improve.
3. Proven Strategies
Our Brisbane Search Engine Optimisation team is a group of experienced professionals that are constantly building on their expertise. Over the years, we have cultivated our own checklists and comprehensive strategies for enhancing SEO. Of course, we can customise this to fit each customer's needs. However, it also allows us to follow a pattern that has proven successful time and time again. You don't have to worry or wonder whether your SEO is merely a guessing game. After all, our five-star rating on Google is no accident.
4. Taking the Next Steps
The goal of SEO is to attract more traffic to your site. At the end of the day, though, your true goal is to increase your revenue. Too many companies invest in SEO but then their traffic doesn't turn into sales. With our various digital marketing departments' expertise, our team can both increase your traffic and focus your site around converting that traffic into customers. You enjoy the benefit of a higher ROI without hiring a separate specialist to improve your site.
5. Individual Attention
Some SEO agencies feel like faceless corporations that plug your site into a program and call it a day. That isn't the case at Media Booth. As a customer, you'll receive your own SEO account manager. This will be your primary point of contact who can guide you through the process and answer any questions you have. All our account managers are right here in Brisbane, so it's easy for you to get in touch at your convenience.
6. Complete Follow-Through
If you look for SEO specialists, you'll find that many of the operate more like consultants than producers. They'll come in, make some changes to your site, and then give you a list of seven other people you need to hire to actually get what you need. Media Booth is different. We have the wide range of professionals to produce anything you need for your site. This includes ongoing written content, on-site videos, digital ads, custom photos, you name it. We have the capability to be the last marketing team you ever need to hire.
How Can We Help You
Get Noticed on Google?

We will develop a custom SEO strategy specifically for your business:
Identify the right keywords
Optimise your website for search engines and website visitors
Create quality content optimised for SEO
And figure out the best linking tactics
But most importantly, we will provide high-quality content for your website visitors and search engines as well.
For a FREE SEO
Consultation

VALUED AT $300
Enter your details below:
Investing in Your Brisbane SEO
When it comes to building your small business, Brisbane search engine optimisation is a critical step. After all, no one can buy from you if they don't know you exist, and search engines are a top way customers find local businesses. By using the strategies and advantages above, our team has what it takes to deliver the results you need.
To learn more about our Brisbane SEO agency or to start working with us, contact our marketing team today.