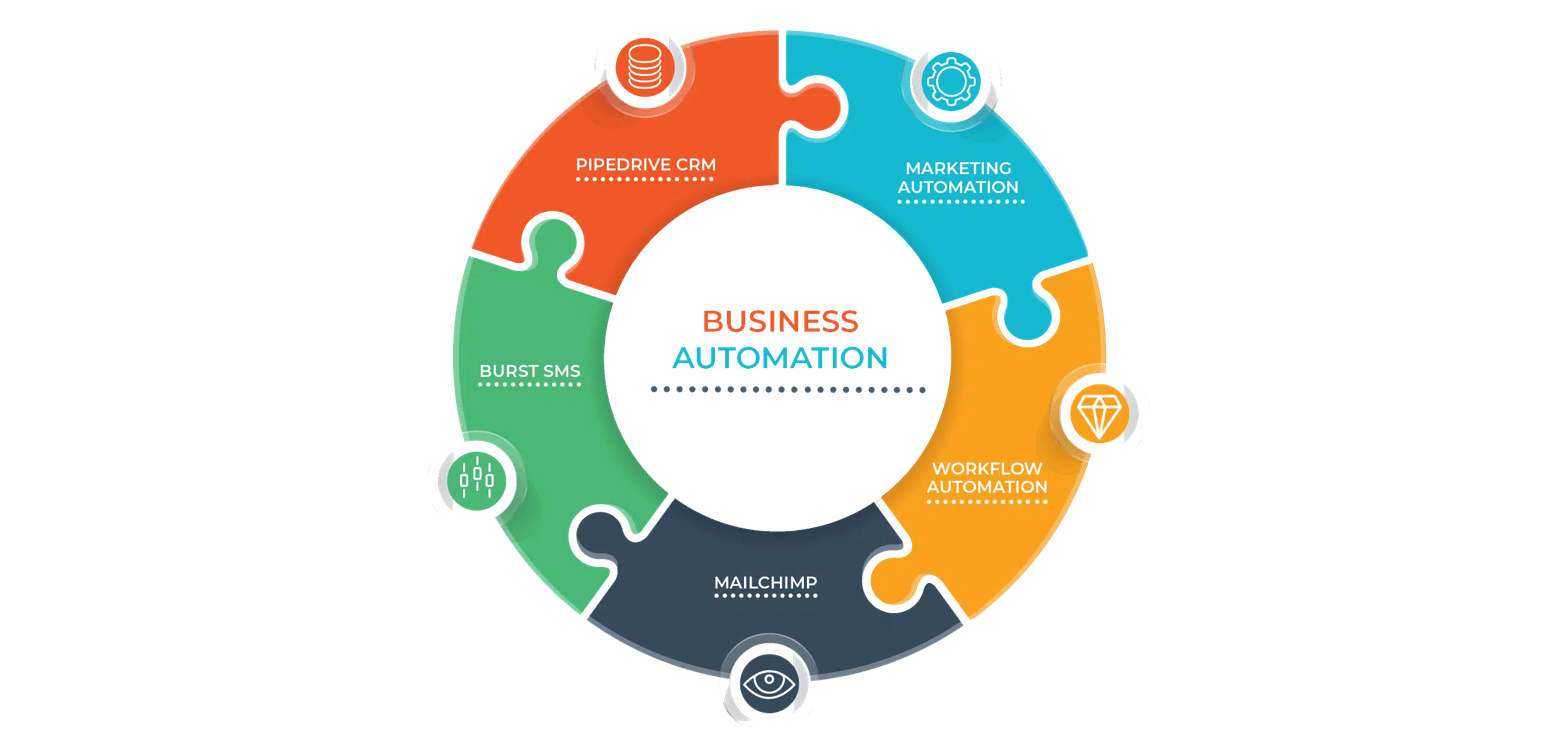 Are you a small business owner who wants to spend less time on the details of running your business and more time on the things that matter most?

If so, this article is for you! We'll walk you through what business automation is and how it can help your small business get more done in less time.

Here are our picks for the top 5 small business automation tools in 2022!
Business Automation
What is it?
Business automation is a process of implementing technological solutions that streamline your operations and make them more efficient.
In other words, using software tools to do your tedious tasks for you. Some common examples of business automation include cloud-based software like accounting and CRM programs.
Why do you need it?
The primary benefit of business automation is increased efficiency and productivity.
Automating tasks like human resources management (HRM) can help you get more done with fewer resources while saving money on overhead costs like office space or equipment purchases.
How to get started?
The first step in implementing business automation is identifying what solution would work best for your organisation's needs—and then finding a vendor who can install it for you! There are many vendors out there who specialize in this kind of work, so don't hesitate to do some research before making an investment that could save money down the line!
With so many tools available to help you automate your processes, it's hard to know which one is right for you. So, we've compiled a list of the top 5 small business automation tools in 2022.
5. Calendly
Business Scheduling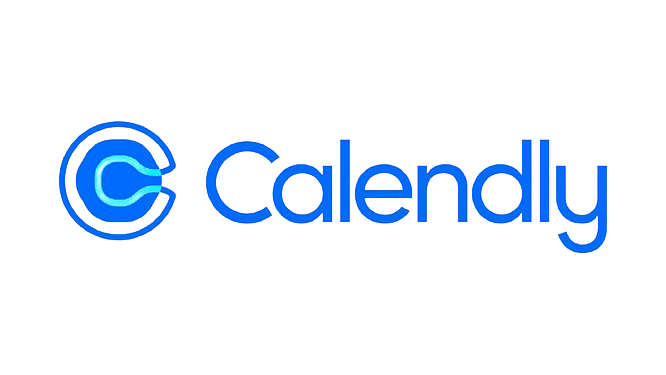 Calendly is a simple tool that helps you avoid time-consuming back-and-forth emails with clients and colleagues. You create a meeting using Calendly and embed the link in your email invitation. The recipient selects their preferred time, and the event is automatically added to your calendar – no hassles.
Key Features
Availability Preferences – You can let Calendly know when you are available by specifying availability preferences. This will help prevent someone from setting up a meeting at a time that is inconvenient for you.
Teams Scheduling – Easily helps you to schedule meetings in Microsoft Teams.
Qualifying Forms – Uses routing forms to accept users (qualifying) to book meetings with you.
Workflow Automation – Helps you set up automatic emails before and after meetings.
Polls – Includes a poll feature to conduct polls from available attendees.
Connect to Multiple Calendars – A single user can connect to up to six different calendars.
Pricing
Calendly comes with a free option and four tiers of paid plans.
Basic: Always Free
Essentials: $8/seat/month
Professional: $12/seat/month
Teams: $16/seat/month
Enterprise: Contact the sales team for pricing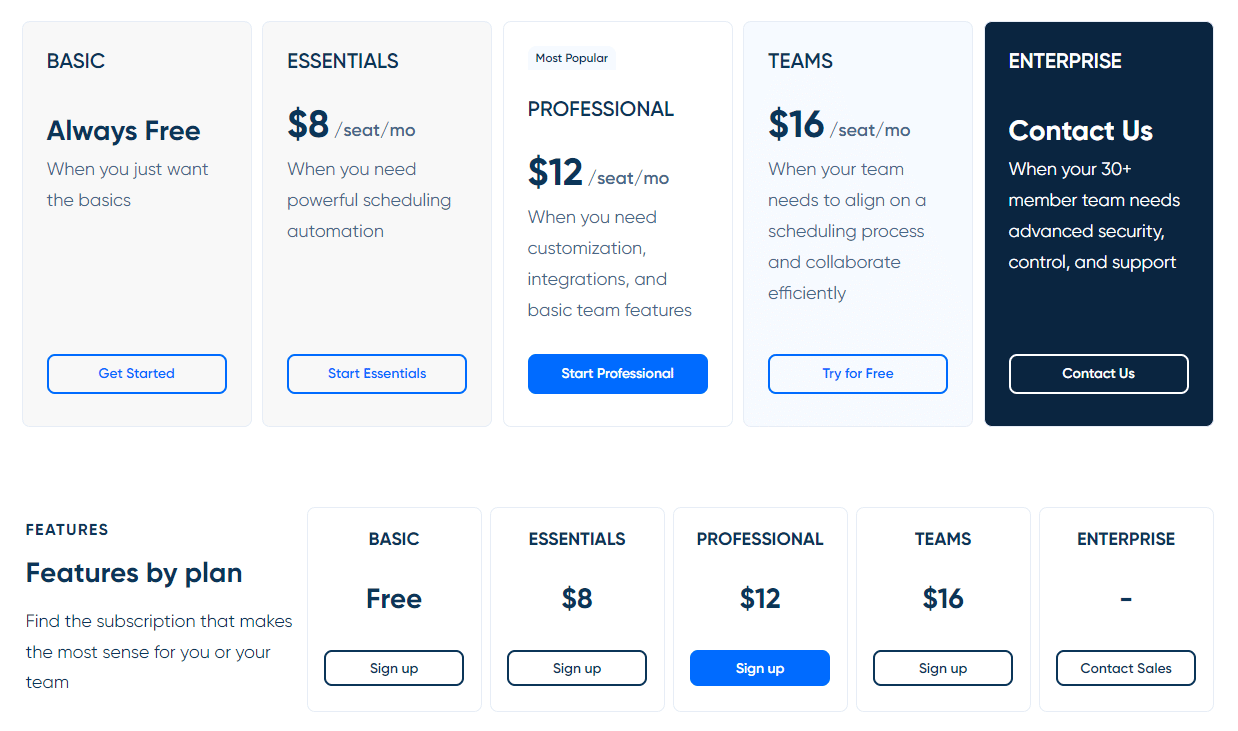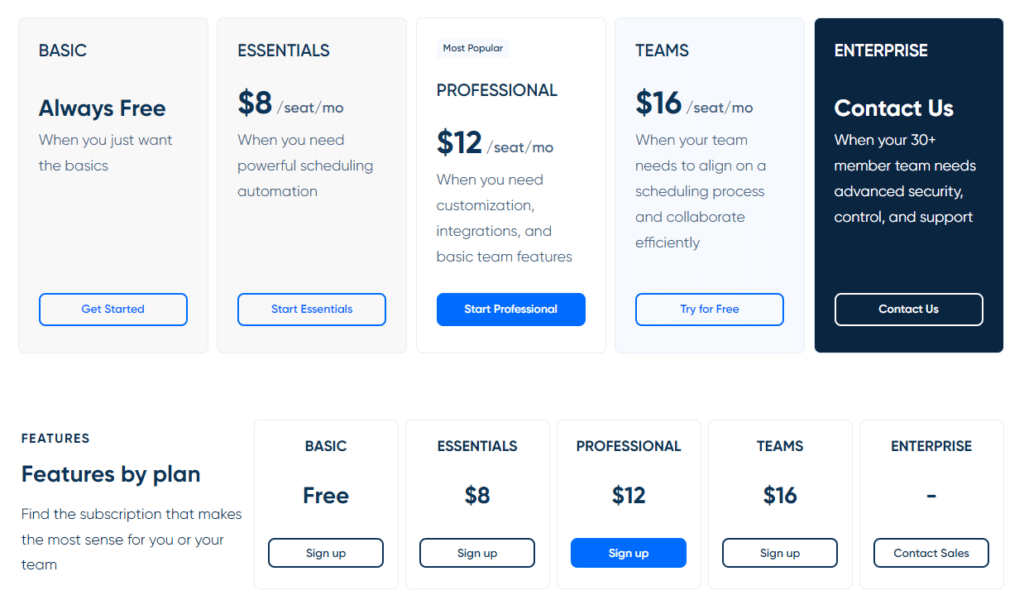 Strengths
It's easy to use and setup
You can manage your calendar in a way that will not waste time, as you will be notified when someone requests a meeting with you
You can customize the availability of your calendar to fit your needs so that it is clear when you are available and when you are not
Weaknesses
You may have trouble customizing the look of your calendar events.
You can't add event information to your calendar entries (e.g., location, description, or notes).
Your clients' calendars may not be set up correctly to receive the SMS notification containing their appointment details (e.g., phone number, address, etc.).
4. Hootsuite
Social Media Management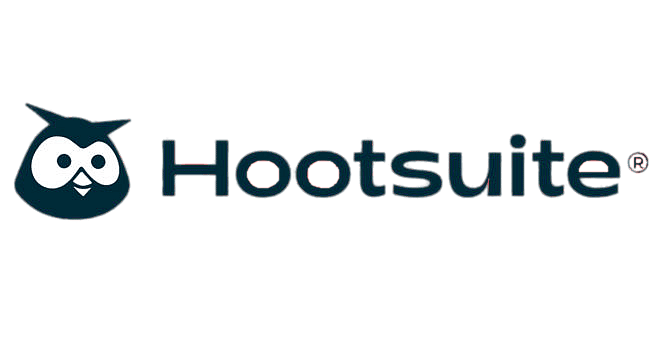 Social media marketing has become an essential part of most businesses marketing strategies. To make the most of this powerful channel, you need a tool that can handle all your social media channels without getting overwhelmed.
This is where Hootsuite comes in handy. The tool allows you to manage multiple social media accounts from one place and post content on each of them at scheduled times using the calendar view.
Key Features
Cross-platform posting – You can let create content and share it across multiple social media accounts.
Post Scheduling – Easily helps you create and schedule posts.
Management Dashboard – This allows you to monitor all your social media channels and analytics from a centralised dashboard.
Media Campaigns – Create and manage complete social media campaigns.
Messaging and Replies – Interact with your audience and share with teammates.
Analytics – Measure audience engagement and create reports.
Pricing
Hootsuite is available in four tiers of paid plans.
Professional: $69 per month
Team: $239 per month
Business: $1049 per month
Enterprise: Contact the sales team for pricing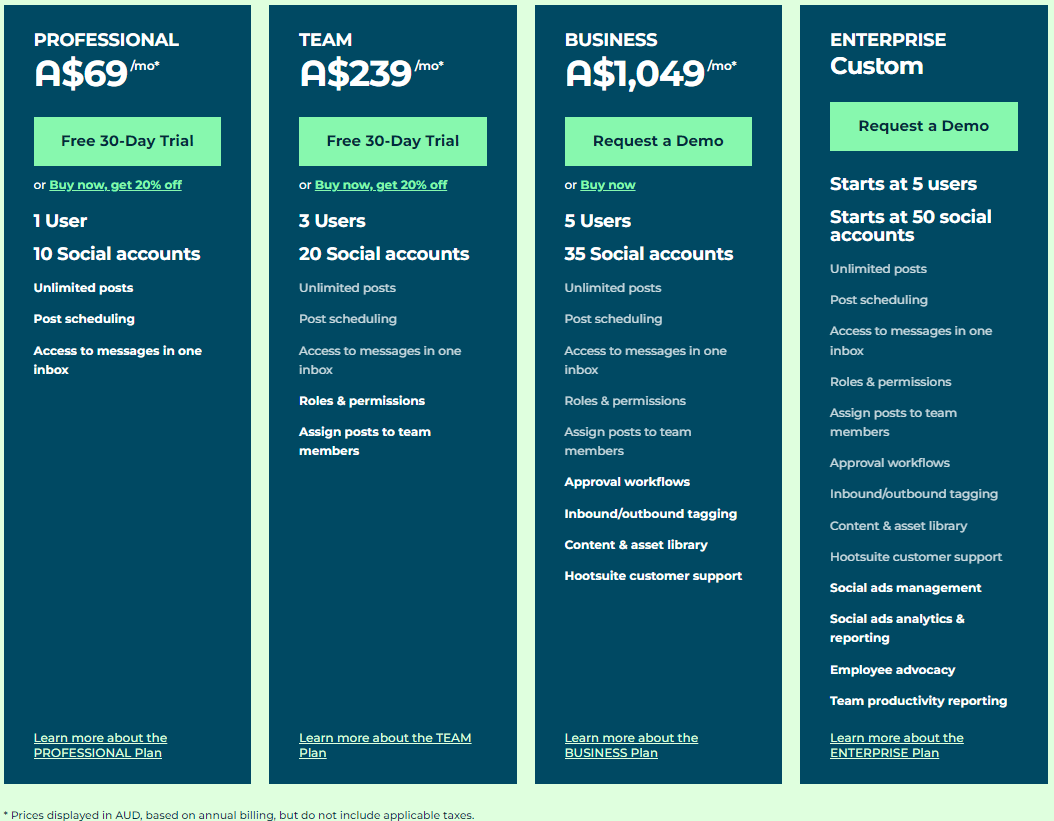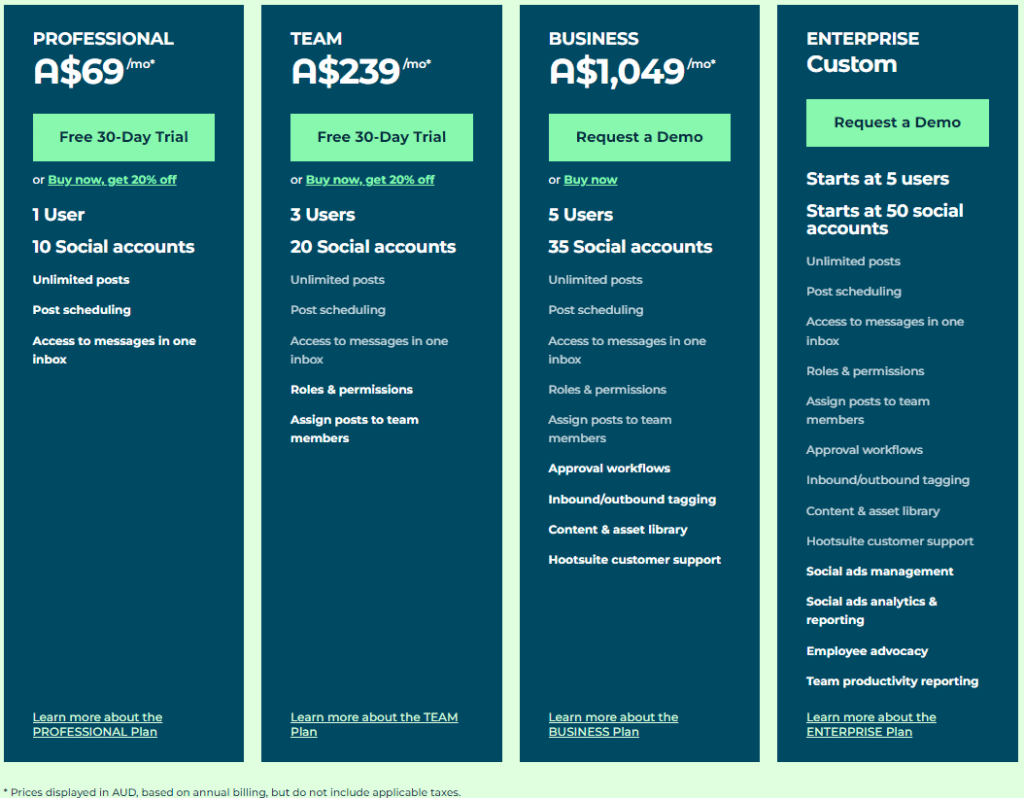 Strengths
You can schedule and manage your messages at a time that's convenient for you, so you don't have to worry about missing out on opportunities.
It allows you to connect with people from all over the world in different languages, which is great for business growth.
It helps keep your social media presence consistent across multiple platforms so that you can build brand awareness and trust with your customers or community members in a way that makes sense for them as individuals—not just as numbers (like some other tools do).
Weaknesses
You have to pay for it. Hootsuite is a paid service, which means you'll have to pony up the cash if you want to use it.
It's not as sleek as other social media management platforms. Hootsuite doesn't have quite the same sleekness as other social media management tools, but it does offer some nice features if you're willing to spend the money on them.
If you want to use it for more than one account, then you'll need to upgrade your plan.
3. Burst SMS
SMS Messaging Service
Burst SMS is a way to send many SMS messages all at once. It is used by businesses and individuals, who want to send out large batches of SMS messages.
The main use cases are:
Promotional messages, such as reminders about sales or new products
Corporate announcements, such as changes in company policy or staff changes
Notifications, such as when an order has been shipped or your account has been compromised
Key Features
Send an SMS to multiple contacts at once
You can cancel or edit messages.
Users can see who has received the message and who has not, as well as those who have viewed it.
It allows you to target specific demographics or geographies with your message.
You can set up automated campaigns that send out bursts at set times throughout the day or week.
Pricing
Burst SMS is available in four tiers of paid plans.
Starter: $0.079 per SMS
Advanced: $0.069 per SMS
Business: $0.059 per SMS
Enterprise: $0.049 per SMS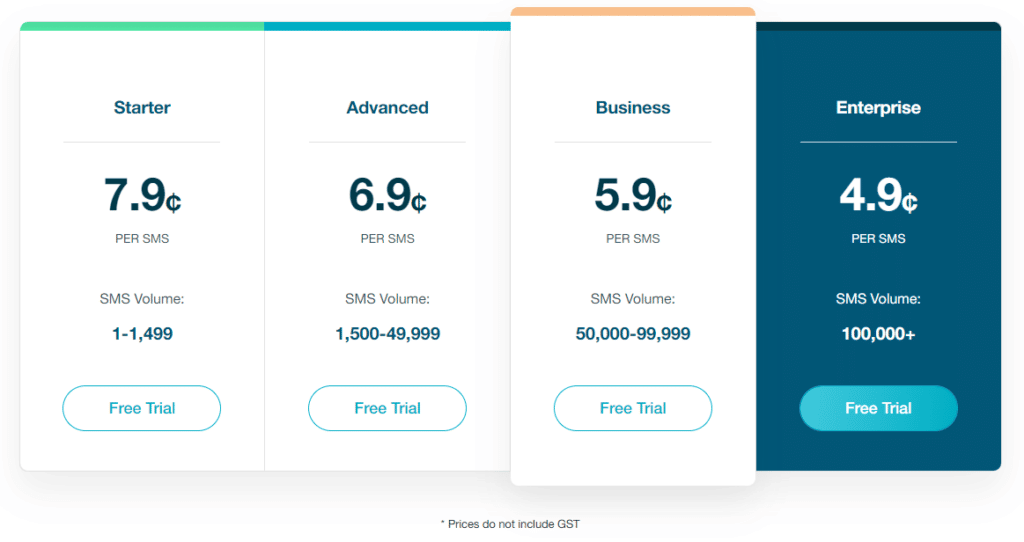 Strengths
It's fast, has a high deliverability rate, and can be used for all kinds of text messages.
It's a cost-effective option for businesses that want to send a message to their customers or employees.
Burst SMS is an easy way to notify people about important events, promotions, product updates, and more.
Weaknesses
It is expensive to send burst messages when your organisation is large.
There is no control over the time difference between messages sent in a burst.
The text of the message cannot be changed after it is sent.
2. Pipedrive CRM
Sales Management


Pipedrive is a CRM (Content Relationship Management) that helps you manage your sales pipeline, which consists of all the leads, opportunities, and deals in your business.
With Pipedrive, you can keep track of your contacts' details and activities, create sales pipeline reports, and track performance over time. You can also automate many tasks to make sure that nothing falls through the cracks.
Key Features
Sales pipeline management with a visual workflow, so you can see at a glance where your leads are in the sales process.
A customizable dashboard that lets you see the data you need and nothing else.
The ability to prioritize leads based on how promising they are, so you can focus on closing deals with the most potential.
Email templates and follow-up sequences that help you stay organized and consistent without spending hours creating them yourself.
Pricing
Pipedrive is available in four tiers of paid plans.
Essential: $14.90 per month
Advanced: $24.90 per month
Professional: $49.50 per month
Enterprise: $99.00 per month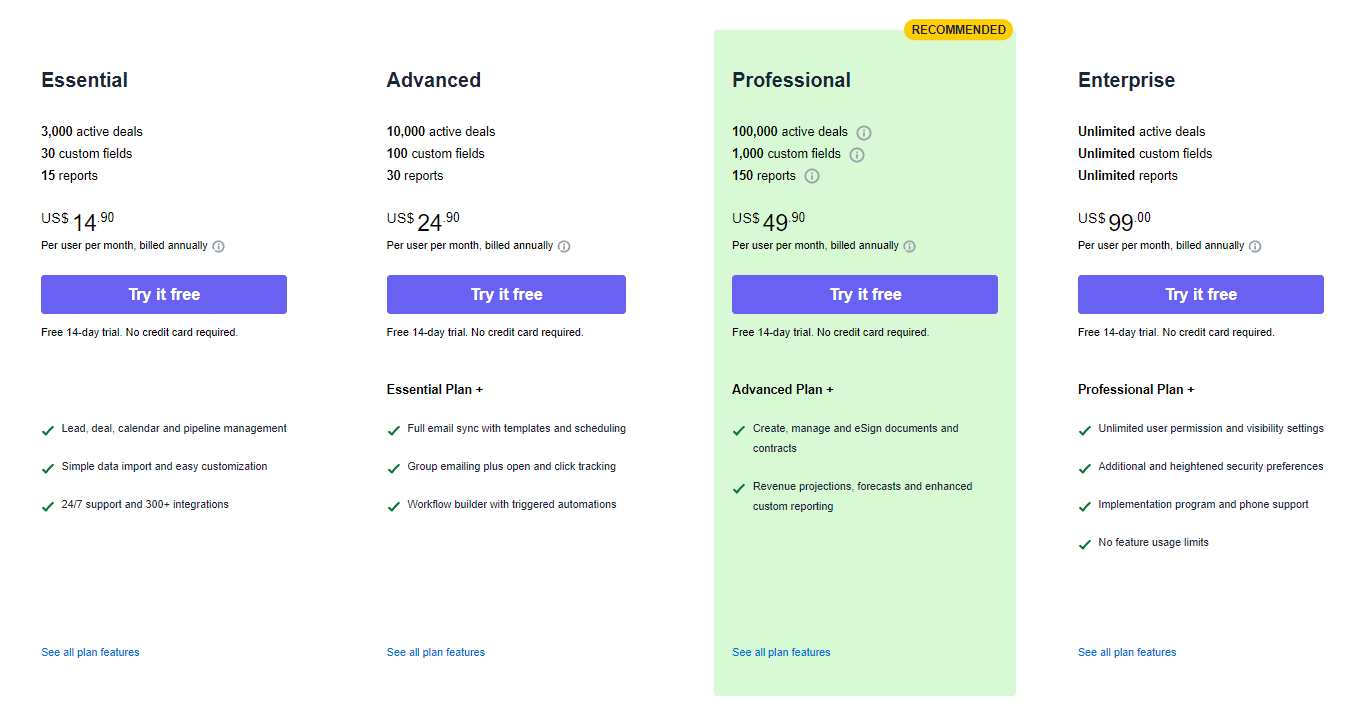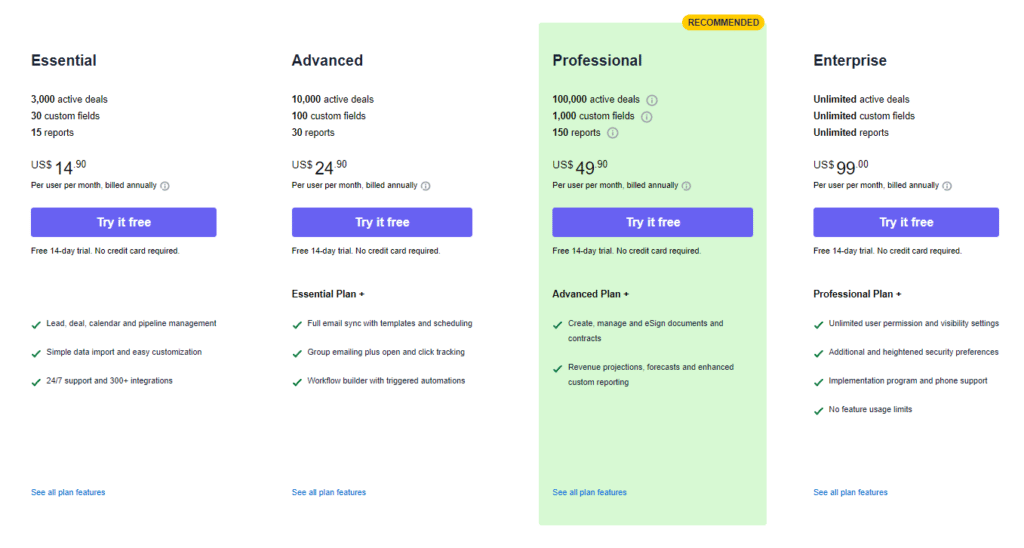 Strengths
It's easy to use. You can set up your account and get started with Pipedrive in just a few minutes.
It's affordable for any startup or small business looking for a CRM solution.
Pipedrive CRM works on any device, so you can access your data from anywhere at any time, from your laptop to your smartphone—and it even has an app that makes it easy to capture leads while you're on the go!
Weaknesses
Pipedrive does not have a free option.
It can be difficult to learn, especially if you're new to CRMs and don't have a lot of experience using them.
The interface isn't as intuitive as some other CRMs, so it takes some time to get used to.
As an Australian Authorised Partner for over 5 years we have developed and implemented custom solutions across a vast range of industries.
Get access to a 30-day free trial using the link below and start streamlining your sales today!
1. Mailchimp
Email Services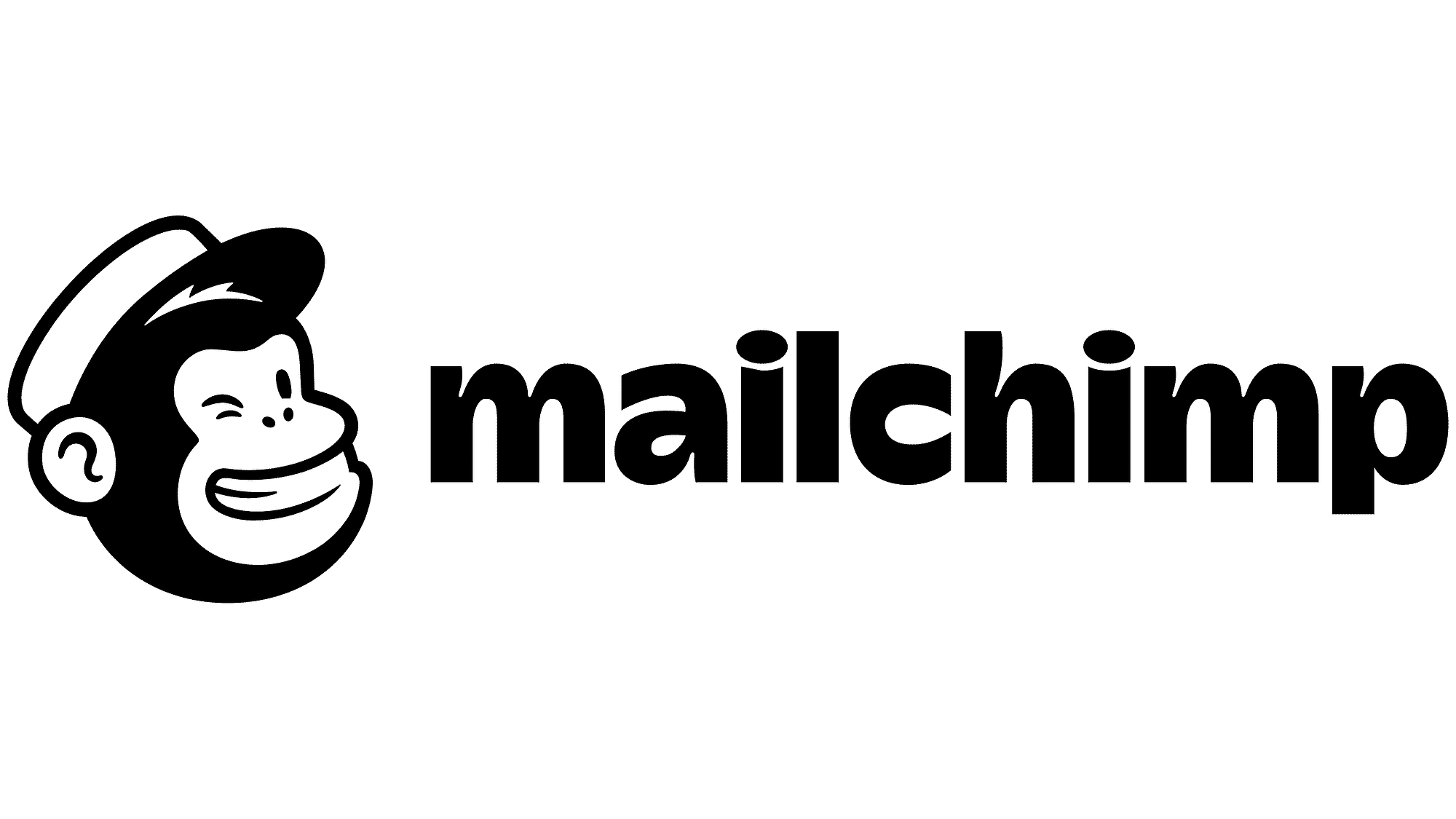 Mailchimp is a platform for sending emails. It allows you to create and send newsletters, emails, and other forms of communication to your customers. It also helps you manage your email list and keep track of who has opened your emails.
Mailchimp allows users to create a free account or pay for additional features such as advanced analytics, A/B testing, landing page creation, and more.
We personally rely on Mailchimp for all our email automation services because of the company's experience in business automation and digital marketing tools.
Key Features
Email Marketing – Send email newsletters and automated emails to your subscribers.
Forms – Create beautiful, customized forms to capture new leads.
Social Media Integration – Use social media to grow your audience and distribute campaigns.
Marketing Campaign Management – Campaign reporting with segmentation, open tracking, and real-time data
Pricing
Mailchimp comes with a free option and three tiers of paid plans.
Free: $0.00 per month
Essentials: $17.85 per month
Standard: $27.59 per month
Premium: $485.20 per month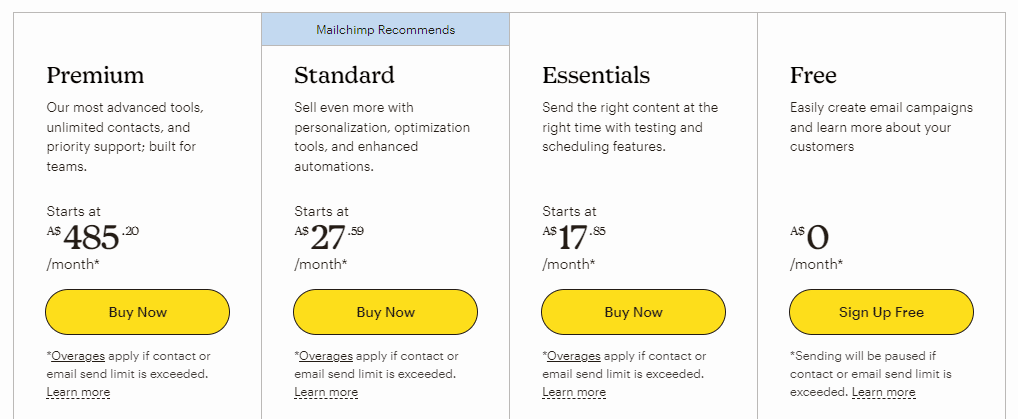 Strengths
You can design your own templates or use Mailchimp's.
The email templates are responsive and look great on mobile devices.
You can customize your email templates with dynamic content.
You can create an unlimited number of campaigns and send as many emails as you want.
Weaknesses
Mailchimp has a limit on the number of emails you can send per month, up to 2500 per month with the free version, more available on higher-tier plans.
You can't customize the look and feel of your emails as much as you can with other email marketing platforms.
It doesn't offer advanced features like automation or email drip campaigns.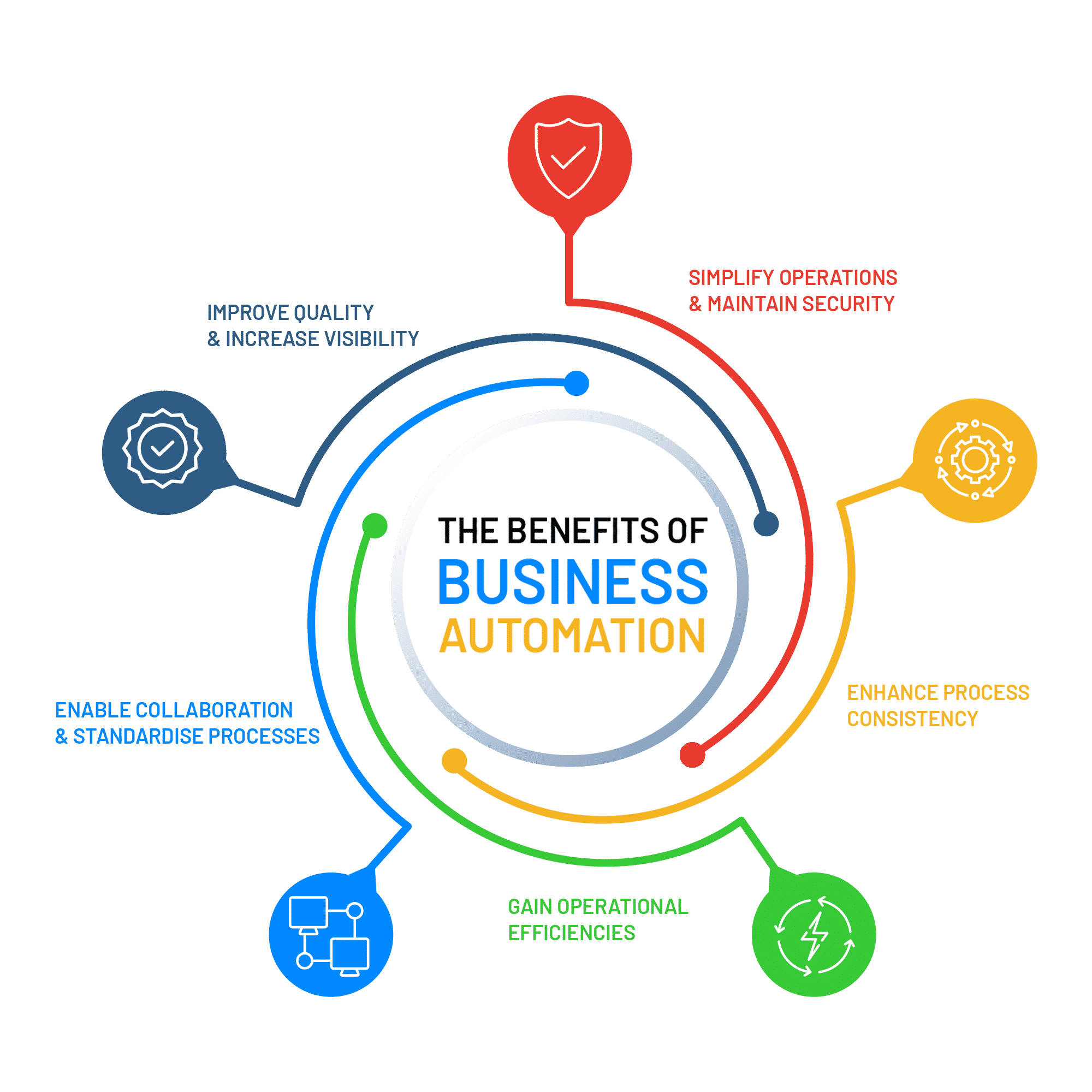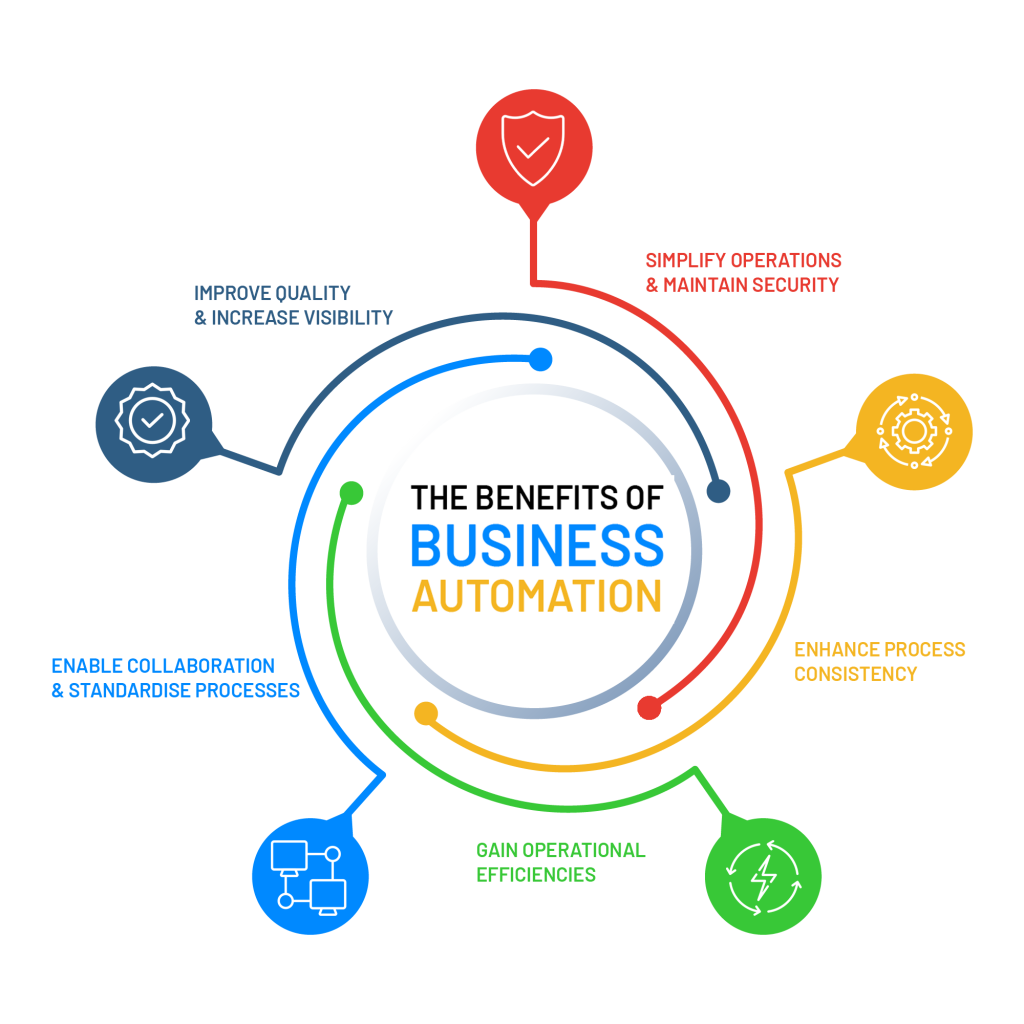 Conclusion
When it comes to small business automation tools, there are a lot of options out there. But we've narrowed it down to the top 5 based on our research and experience in this field.
If you're looking for a way to automate your business, whether that's managing your social media accounts or streamlining your customer service process, these tools will help you get the job done.
Now that you know which small business automation tools are the best in 2022, it's time to get started!
You can start by picking one or two of these tools and implementing them in your business. Remember: it's always better to start small and work your way up than it is to bite off more than you can chew.
So, what are you waiting for? Get out there and start automating your small business!
The Top 5 Best Small Business Automation Tools in 2022
Media Booth Socials